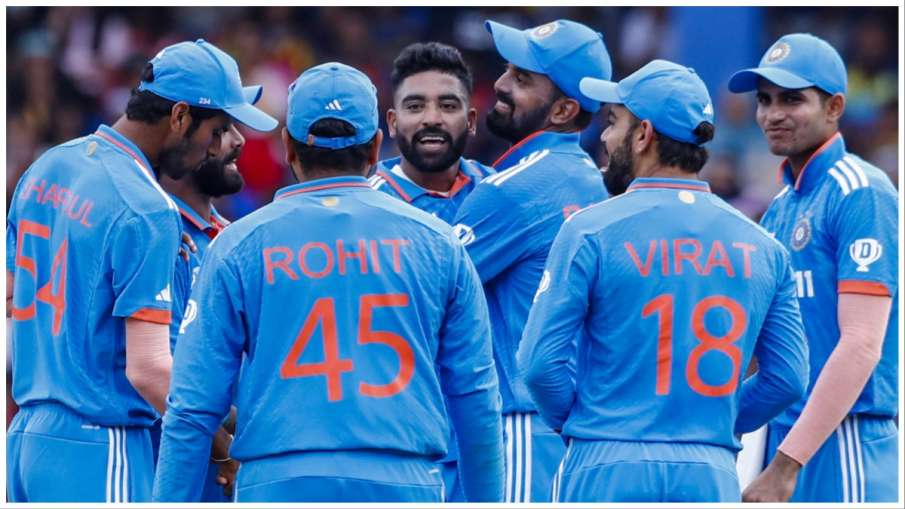 Image Source : AP
Indian Cricket Team
Team India will become number 1 in ICC ODI Rankings: Late Sunday evening, after Team India's spectacular victory over Sri Lanka in the final of Asia Cup 2023 and South Africa's series victory over Australia, suddenly the cricket fans were shocked. When it was known that the Indian team had won and Australia had lost, then how did the Pakistani team reach number one in the ICC ODI rankings. The interesting thing is that Pakistan's performance was very poor during the Asia Cup, while Team India created new records of victory, but had to be content with second place. However, the ratings of India and Pakistan are equal and the Indian team will have a chance to capture the number one position again before the ICC ODI World Cup 2023.
Team India and Pakistan have equal ratings
Talking about the latest ICC ODI rankings, the Pakistani team is occupying the number one position with a rating of 115. Team India's rating is also 115, but it has been kept at number two. Actually, Pakistan has played 27 matches to get this rating, whereas Team India has this rating after playing 41 matches. Although not much is known about how the ICC rankings are prepared, but it is believed that that is why the Indian team would have remained at number two. At the same time, the team which was occupying the number one position till now, i.e. Australia, has had to go straight to number three. In the series being played between Australia and South Africa, Australia won the first two matches, but after that, after losing three consecutive matches, it not only lost the series but also lost the number one position.
Team India can become number one if it wins two matches of the three-match ODI series against Australia.
Now the question is whether Team India can become number one before the World Cup 2023. The answer is that yes, it can be done. The three-match ODI series between India and Australia is starting from September 22. If Team India is successful in winning its two matches, then no one will be able to stop it from becoming number one again. But if there is defeat in two matches and the Indian team is able to win only one match, then it will definitely be difficult. If this happens, the Pakistani team will remain at number one and Australia will overtake the Indian team and reach number two. There is a lot of multiplication involved here and even the slightest mistake will prove costly. For now, the focus should be on winning at least two matches of the series and capturing the number one position along with the series. It remains to be seen whether Team India is successful in achieving this feat or we will have to wait for a while.
Also read these sports news on connexionblog
Team India's historic victory creates panic in Pakistan, fear before the World Cup!
Explained: What did Team India get from Asia Cup 2023, how many boxes were ticked?
Latest Cricket News

<