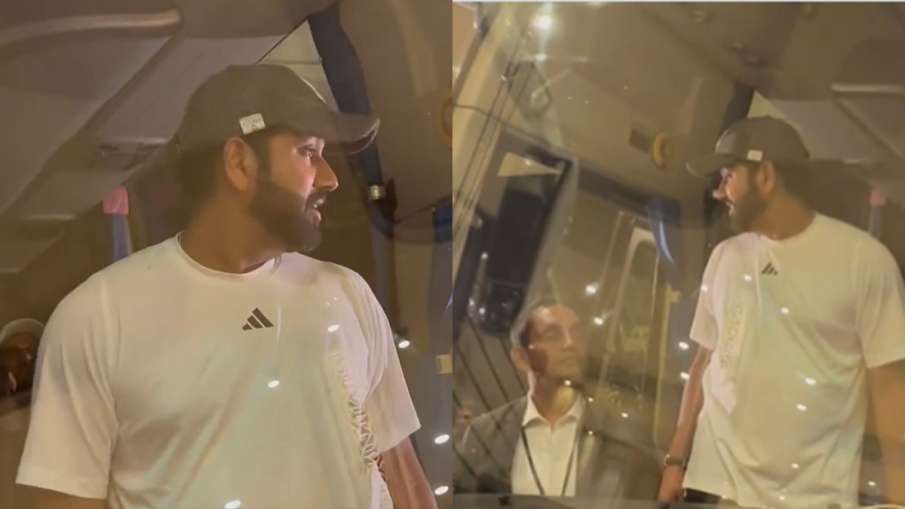 Image Source : ROHIT SHARMA Rohit Sharma
Under the captaincy of Rohit Sharma, the Indian team won the Asia Cup 2023 title. In the final, Team India defeated Sri Lanka by 10 wickets in a spectacular fashion. Earlier in 2018 also, India had won the Asia Cup under the captaincy of Rohit. The players have now returned to India, where they have to play a three-match ODI series against Australia. While returning home, Rohit forgot his passport. Later a member of the support staff brought him the passport. A video of this is going viral.
Rohit Sharma forgot passport
Indian team captain Rohit was sitting in the team bus to return home. During this time, he forgot his passport in the hotel itself and then after some time a member of the support staff brought it and gave it to him. There is a video of this period, in which Rohit is standing at the gate of the bus and in the video a person is heard saying that we were waiting for you.
Kohli had said this
After Rohit Sharma forgot his passport, Virat Kohli's old saying came true. When he said in an episode of the top show Breakfast with Champions that Rohit often forgets things like iPad etc. Once or twice he has also forgotten his passport. The logistics manager has now started asking whether Rohit has brought everything or not and only then the team bus leaves.
Indian team won the title
Team India performed brilliantly in Asia Cup 2023. Mohammad Siraj gave a stormy performance in the final for India and led Team India to victory. He took 4 wickets in just one over and broke the back of Sri Lanka's batting order. He took a total of 6 wickets in the match. Shubman Gill was the leading run-scorer in Asia Cup 2023. He scored 302 runs for Team India. Apart from him, Rohit Sharma contributed 194 runs.
Also read:
Fans got angry when this player did not get a place in the Indian team, said – what mistake did he make that he was out?
Star batsman Cheteshwar Pujara suspended for one match, this big reason revealed
Latest Cricket News
Breaking news in Hindi on connexionblog Hindi News Read the latest news, live news updates and special stories from India and abroad and keep yourself up-to-date. Click sports section for Cricket News in Hindi


<