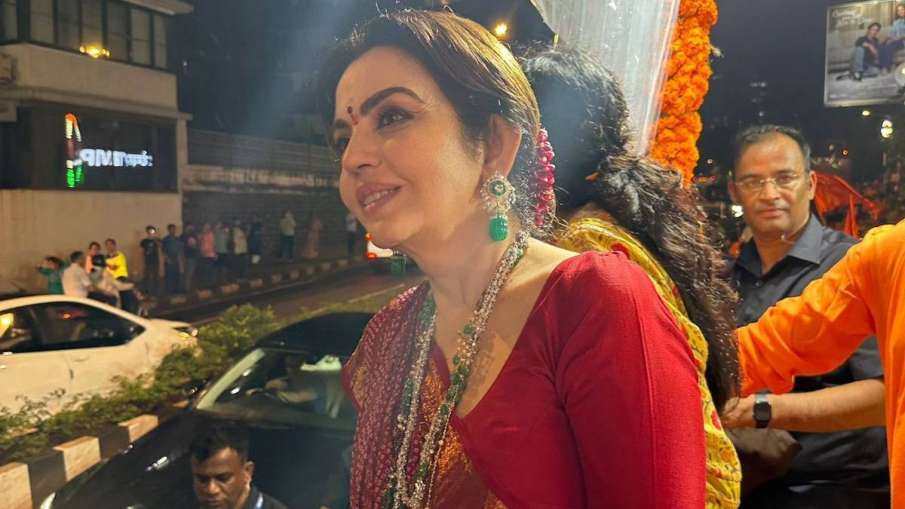 Image Source : VIRAL BHAYANI Ambani Ganpati Visarjan
Ambani Ganpati Visarjan: After celebrating the festival of Ganesh Chaturthi with great pomp across the country, now the Ganesh idol is being immersed. In the same sequence, the Ganesh idol installed at the house of Reliance Industries Chairman Mukesh Ambani was immersed today. Nita Ambani also joined the devotees in the procession carrying the Ganesh idol for immersion. The enthusiasm of the devotees during the immersion procession was palpable.
Nita Ambani looked emotional
Devotees often have tears in their eyes while bidding farewell to Bappa. Neeta also looks very emotional while bidding farewell to Bappa after serving him for 3 days. We can see that the enthusiasm of the crowd that gathered to see Neeta Bappa was also great.
Nita Ambani looked beautiful in red saree
Nita Ambani is looking very beautiful in red colored saree on this occasion. She has teamed green stone jewelery with red saree. And the red flowers in her hair bun are adding to the charm.
row of stars
A glimpse of Make in India is being seen in the Ganesh Mahotsav at Mukesh Ambani's house. In this grand celebration, fans have liked not only the look of politicians and Bollywood celebrities but also the look of Nita Ambani. In the last three days, many stars including Rekha, Shahrukh Khan, Ranveer Singh, Deepika Padukone, Janhvi Kapoor, Ananya Panday, Varun Dhawan participated in the Ganpati celebrations of the Ambani family.
Shahrukh Khan reached the court of Raja of Lal Bagh, younger son Abram also took blessings of Bappa.
'Choo CPT' launched before 'Fukrey 3', how the iconic Fukrey character Chucha entered the world of Chat GPT!
National Cinema Day: Movie lovers' lottery will be held on this day, any movie ticket will be available for just Rs 99
Latest Bollywood News

<