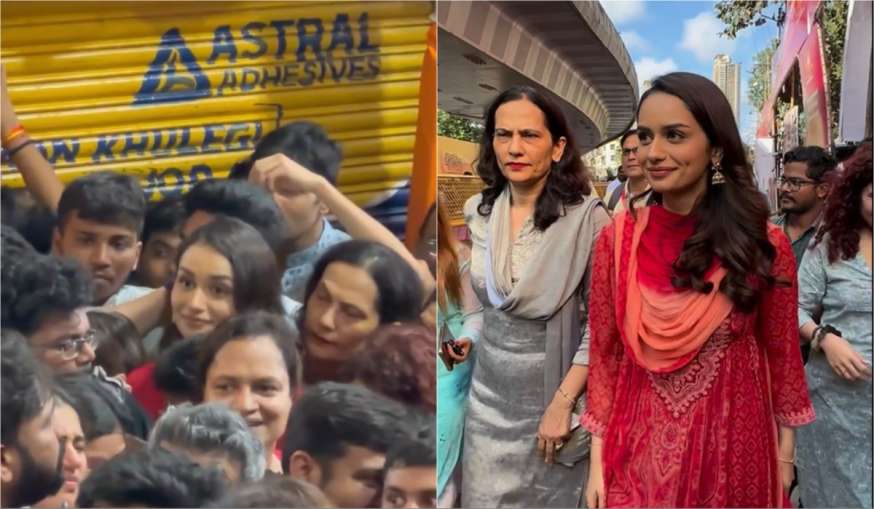 Image Source : INSTAGRAM Manushi Chhillar
Ganesh Chaturthi is celebrated all over the country. This festival is being celebrated with great enthusiasm in Mumbai. During this time, all the Bollywood celebs are visiting the famous Lalbagh of Mumbai. Meanwhile, on Tuesday i.e. 26th September, Bollywood actress Manushi Chhillar also came with her mother to visit the Raja of Lalbagh. But during this time something happened to the actress that she could not see Bappa.
Manushi Chhillar stuck in the crowd
You all know that the most popular public Ganesh Mandal of Mumbai is the Pandal of Raja of Lalbagh. Where people from not only the country but also from abroad come to get a glimpse of Ganpati. What is special and what is common? Everyone who comes here is seen in the color of devotion to Bappa. This year too, during this festival of Bappa starting from 19th September, there is a huge crowd of devotees attending the court of the king of Lalbagh. According to reports, so far more than 75 lakh people have attended the court of the Raja of Lal Bagh. It also includes names of many Bollywood celebs like Shahrukh Khan to Shilpa Shetty who have gone to attend Bappa's funeral. Meanwhile, Manushi Chhillar also went to see Bappa the previous day, but when the actress went there, there was so much crowd in the Raja pandal of Lalbagh that the actress could not see Bappa. A video of this period has surfaced, in which Manushi is seen trapped in a crowd of devotees.
Manushi Chhillar did not see Bappa
In the video that has surfaced, you can see that a huge crowd of devotees is seen to see the king of Lalbagh. Meanwhile, Manushi is also seen with her mother. And the crowd was so much that Manushi could not even see Bappa. This video of his is currently going viral on social media.
Manushi Chhillar's workfront
Talking about Manushi Chillar's work, recently the actress was seen in the film 'The Great Indian Family' with Vicky Kaushal. Now Manushi will soon be seen in 'Tehran' and 'Bade Miyan Chhote Miyan'. The shooting of the film has been completed. Post-production work is currently pending in the film. Apart from this, there is news that the actress will make her Tollywood industry debut opposite South actor Varun Tej in 'Operation Valentine'.
Those hit films of Yash Chopra, who made Shahrukh Khan a superstar, will make you romantic after watching them.
There were so many delicious food items at Raghav Chadha-Parineeti Chopra's wedding, your mouth will water after watching the video!
5 cool twists in Anupamaa will set the housemates' ears, Dimpy will give the biggest good news, Pakhi will shock!
Latest Bollywood News

<