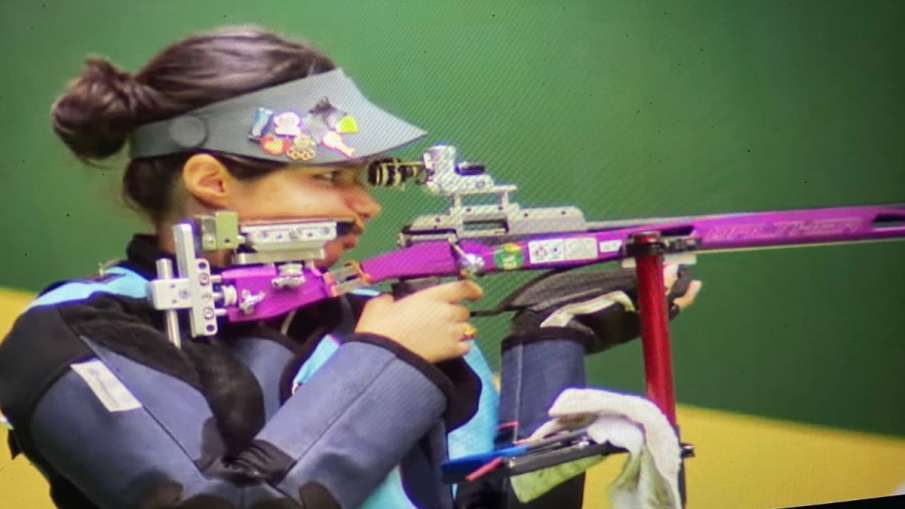 Image Source : @MEDIA_SAI TWITTER
Nischal
ISSF World Cup: India's young shooter Nischal has won the silver medal in the women's 50 meter rifle 3 positions at the ISSF World Cup in Rio de Janeiro. He gave India its second medal on the last day of the tournament. Before him, Elavenil Valarivan had won the gold medal. This medal of Nischal is also special because this was his first World Cup. He scored 458.0 in the final. She finished second behind Norwegian star shooter Janet Hague Duestedt. Duestedt has a total of 12 gold medals in her name in the ISSF World Cup, including five gold medals.
Won the medal in the first final itself
Nischal performed brilliantly throughout the day and in the meantime also broke the national record in the women's 3 position qualification. She said that this was my first final in the World Cup and I was successful in winning a medal, so I am very happy with this performance. Nischal made it to the qualification round by scoring 587 points in the elimination round. Apart from them, Anjum Moudgil and Ayushi Podar were also successful in making it to the qualification round. In the qualification, Nischal scored 542 points, which also included a 'perfect' 200 points scored in the prone position. In this way, he broke Anjum's national record of 591 points set in the President Cup in Cairo last year. Anjum scored 586 marks and could not make it to the finals by finishing at 10th position. Ayushi stood 35th with 580 marks.
Great performance right from the start
Many top players made it to the finals, including Janet Hague Duestedt, world champion Wanru Miao of China, 2018 Youth Olympic champion Stefanie Grundsoe of Denmark, Olympian Sofia Ceccarello of Italy and Anneta Stankiewicz of Poland. However, this had no effect on Nischal and he performed brilliantly from the beginning and gave a tough challenge to Duestedt till the end. However, the Norwegian shooter made good use of her experience and won the gold medal by scoring 461.5 points. She was 3.5 points ahead of the Haryana shooter.
India won two medals
On the last day of the tournament, Gurpreet Singh was also participating in another medal event. However, he finished 15th in the men's 25m rapid fire pistol by scoring 574 points. In this way, 16 shooters from India won one gold and one silver medal in the Rio World Cup. Elavenil Valarivan won the gold medal in the women's 10m air rifle.
(Input: PTI)
Also read:
Star batsman Cheteshwar Pujara suspended for one match, this big reason revealed
Fans got angry when this player did not get a place in the Indian team, said – what mistake did he make that he was out?
Breaking news in Hindi on connexionblog Hindi News Read the latest news, live news updates and special stories from India and abroad and keep yourself up-to-date. For Other Sports News in Hindi Click Sports Section


<