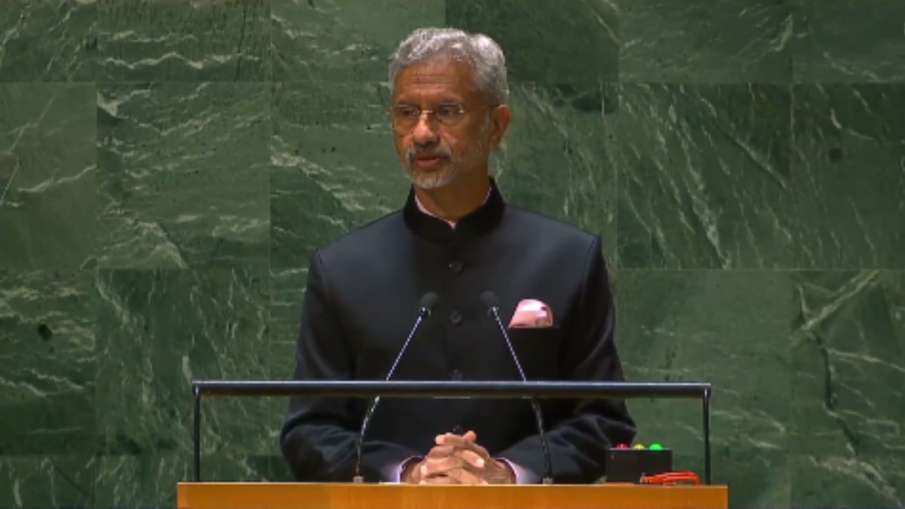 Image Source : FILE S Jaishankar, External Affairs Minister of India.
India has given a big challenge to Prime Minister Justin Trudeau on Canada's allegations in the United Nations General Assembly. Foreign Minister S Jaishankar has said that if Canada has concrete evidence then it should present it, we are ready to consider it. The Foreign Minister said that evidence is not hidden. If there is evidence then it should not be limited to Canada only. During this time, India also scolded the countries that were sympathizers of Canada. The Foreign Minister said that the reaction to terrorism will not be according to political convenience.
Let us tell you that Khalistani terrorist Hardeep Singh Nijjar was murdered in Canada in June. Canadian PM Justin Trudeau has made baseless allegations of India's involvement in this. Speaking on this in the United Nations General Assembly, Jaishankar said that if someone gives me something concrete, then there is no need to limit it to Canada. If there is any incident that is an issue and someone gives me some specific information as a government, I will look into it.
Trudeau upset by Jaishankar's challenge
Other countries of the world, including the Prime Minister of Canada, might not have expected that India could take such an aggressive stance in the United Nations. S Jaishankar's open challenge has spoiled the atmosphere of PM Trudeau. Along with demanding concrete evidence in the terrorist Hardeep Singh Nijjar case, S Jaishankar also gave a strong message to its friendly countries including Canada, saying that the policy of territorial integrity and non-interference in the internal affairs of any country cannot be different for every country. Therefore, do not try to suppress those who make rules and follow the rules. S Jaishankar made it clear in a press conference in New York that terrorists flourish in Canada. If Trudeau had evidence against India, he would not have kept it hidden.
Advice to Canada's friendly countries
Jaishankar said that we told the Canadian people that this is not the policy of the Indian government. If you have something concrete and relevant, let us know. We are ready to see it. The picture is not complete without the complete story. You have to keep in mind that over the last few years Canada has actually seen a lot of organized crime related to separatist forces, organized crime, violence and extremism. They are all very, very deeply connected. So really, we're talking about solid evidence and information. Jaishankar also advised Canada's friendly countries that if Trudeau nurtures terrorists in his country, who will be involved in activities against India, then it will not be tolerated. Without naming Canada, India gave a message to Canada that terrorism will not be tolerated. Those who sheltered him will have to answer.
Canada should hand over Khalistani terrorists to India
External Affairs Minister S Jaishankar said that we have given them a lot of information about organized crime and leaders, which operate from Canada. There are some terrorist leaders who have been identified. We request his extradition. Our concern is that Canada has actually been very lenient towards the Khalistanis for political reasons. Our diplomats have been threatened, our consulates have been attacked. Much of this is often justified because it is said that this is how democracy works. But this is not going to happen anymore.
What did the Canadian ambassador say on Jaishankar's attack?
There was a stir in Canada after hearing Jaishankar's roar in the UN Assembly. The Canadian Ambassador hit back at India, saying that while we place great emphasis on the importance of equality, we also have to maintain the values ​​of a free and democratic society. We cannot bend the rules of relations from one state to another for political gain. Because we have seen and continue to see the extent to which democracy is threatened by various means of foreign interference. But the truth is that if we don't follow the rules we've agreed to, the fabric of our open and free society begins to tear apart.
Read also
India's big attack on Khalistanis friendly pro-Canadian countries, Jaishankar said in UNGA – "The world still has double standards"
Justin Trudeau's allies are also giving statements against him, for the first time the ruling leader of Canada spoke in support of India.
Latest World News

<