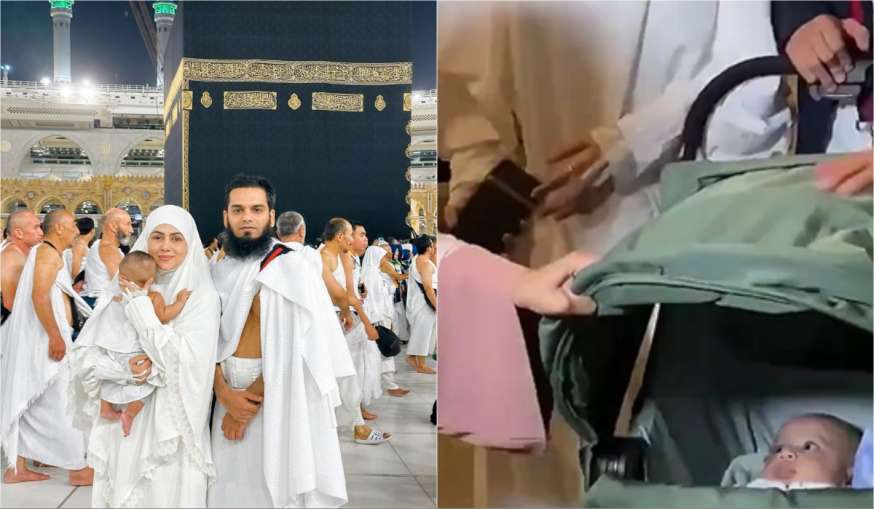 Image Source : DESIGN Sana Khan's child's picture went viral
Sana Khan, who has given up the glamor industry, is enjoying motherhood these days. The former actress became the mother of a son in July this year, who is now about three months old. Meanwhile, Sana-Anas had gone on a pilgrimage to Kaaba in Mecca, Saudi Arabia with their son, the photo of which was shared by Sana herself on social media. While sharing a picture with her son on her Instagram account, Sana Khan wrote in the caption, 'This is a family photo from Kaaba.' This picture shared by Sana was liked a lot by the fans.
Something happened with Sana's child at the airport that Ana became angry.
Now Sana has returned from Umrah with her husband Anas and son, recently she was spotted at the airport with her family. However, during this time, some such incident happens with Sana's son at the airport, seeing which Sana's husband Anas turns red in anger. Actually, in the video that has surfaced, you can see that Sana and Anas are carrying their son in the cradle. Meanwhile, suddenly paparazzi come near him to click his picture. Anas and Sana get nervous after seeing the paps because their child's face is not covered during this time. In such a situation, as soon as the paparazzi tries to take a picture of the child, Sana and Anas start hiding the child's face in a hurry. During this time the child's face is visible but after this Anas appears very angry. Anas looks very angry at first, however after this he is seen smiling and warning the paparazzi.
Fans are loving seeing the glimpse of Sana's son
Nowadays, such a trend is being seen in Bollywood that celebs are seen avoiding revealing the face of their children on social media. Anas and Sana are also following this rule very well, however, now the fans have seen a glimpse of their child at the airport, after which everyone is seen showering love on the couple's son and his cuteness. Let us tell you that Sana Khan After saying goodbye to the industry in the year 2020, she secretly married businessman Anas Syed. After two and a half years of marriage, the couple is very happy to become parents of their first child.
When Raghav Chadha applied vermilion on Parineeti Chopra's demand, this was the actress's reaction.
Swara Bhaskar celebrated with her family on completion of 6 days of her daughter's life, shared beautiful glimpses of the celebration
Jokingly, Shahnaz Gill said such a big thing, people said – 'This is not the first Sana'
Latest Bollywood News

<