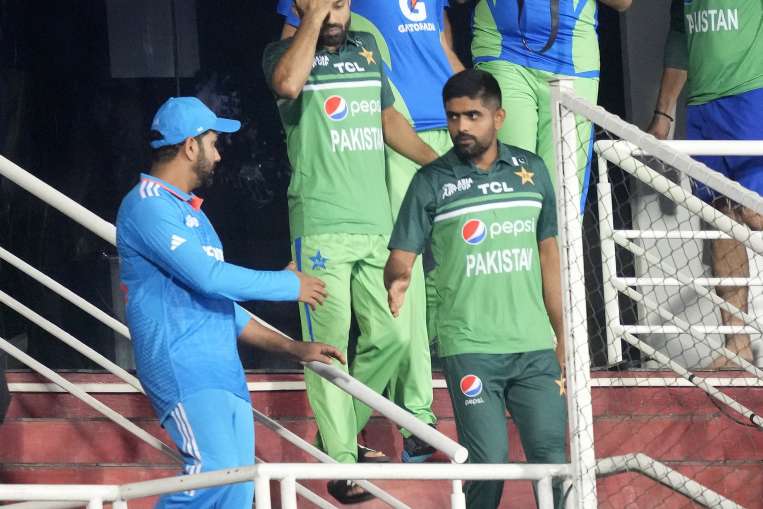 Image Source : PTI
Babar Azam
There are less than 10 days left for the start of the ODI World Cup 2023. This tournament is going to start in India from 5th October. One by one all the teams are now coming to India for the World Cup. Pakistan team is also ready to come to India for the World Cup. Before the World Cup to be held in India, Pakistan captain Babar Azam has given a big statement.
What did Babar say before the World Cup?
Most of the members of the Pakistan cricket team have not played in India before but captain Babar Azam expressed confidence that his team has prepared well for the ODI World Cup starting from October 5. The visa of the Pakistan team was approved on Monday night and the team will reach Hyderabad via Dubai on Wednesday. Before this, only Mohammad Nawaz and Aga Salman have played in India. Babar could not come to India for the T20 World Cup in 2016 due to injury. Babar said that although we have not played in India before, we are not taking much pressure. We have done our preparations and we have heard that the circumstances will be similar to other Asian countries. He said that it is a great honor for me to travel as captain this time, I hope that this time we will come back with the trophy.
A lot of expectations from Babar Azam
Babar Azam is expected to score a lot of runs in this big ICC tournament. The Pakistani captain is also looking forward to the big match against India in Ahmedabad on October 14. Babar said that I am excited to play in Ahmedabad because the stadium will be packed. I will try my best to perform to the best of my ability. I'm not worried about my personal achievements, I want to make sure whatever I do helps the team get results. He said that whenever a tour is about to happen, I spend some time planning it. I prepare by watching the opposing team. I try to set goals for myself and give my 100 percent on the field.
There was defeat in Asia Cup
Pakistan was considered a strong contender to win the Asia Cup but the team returned empty handed from the tournament which was won by India. The team's star fast bowler Naseem Shah has also been ruled out of the World Cup due to injury in this tournament, while the team is facing problems in both the bowling and batting departments. Azam stressed the need to support players struggling with poor form, including players like Fakhar Zaman and Shadab Khan who failed to perform effectively in the Asia Cup.
Rohit Sharma will miss these star players, they were out even before the start of the third ODI!
England's big blast before World Cup 2023, you will also be shocked
Latest Cricket News

<