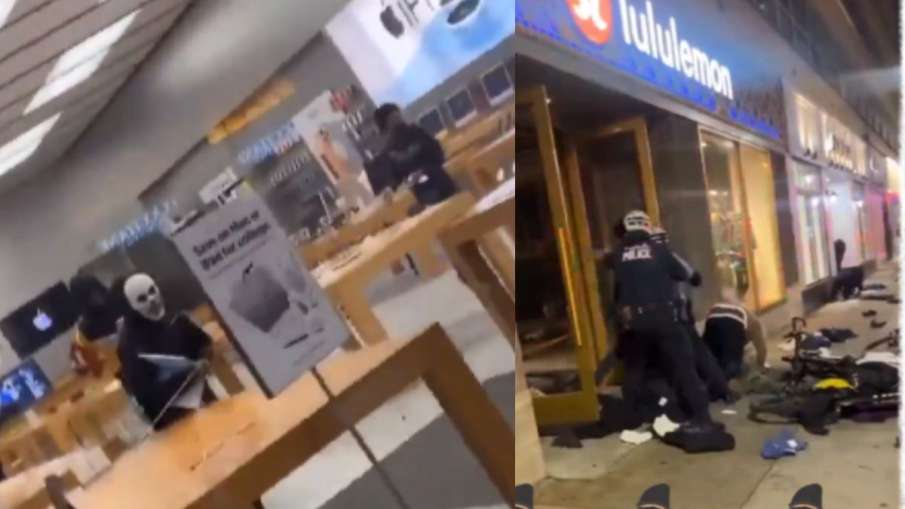 Image Source : File photo Police have also arrested many people in this robbery case.
Robbery in Apple Store Philadelphia: Apple has launched the latest series of iPhone this month. There is a huge craze among Apple lovers to buy iPhone 15. The first sale of iPhone 15 was on September 22 and there were long queues to get it in almost all Apple stores around the world. There is a scramble among people to get iPhone 15. Videos of people's craze for buying iPhone are going viral on social media, but a video has surfaced from America which has surprised everyone.
Actually, a video is becoming increasingly viral on social media. In this, a group of teenagers targeted the Apple Store. About 100 people were included in this group. They targeted Apple Store as well as shops. It is being told that this viral video is from Philadelphia, America.
A group of youth had reached the Apple Store wearing masks so that they could not be identified. As soon as people entered the store, they started looting the Apple devices present there. Whoever found the device in his hand started taking it. Whoever got the device started running away with it. Within no time, iPhones and other devices worth crores of rupees were looted from the store.
It is being told that the thieves had come with a plan to rob the Apple Store. He also had a bag to keep the looted items. Let us tell you that this is not the first time that an Apple Store has been robbed. Earlier in 2020 also, a major incident of robbery was reported in the Apple Store. Police have arrested some people in this case while the search for the rest is going on.
Also read- Be careful if you receive calls from +92 number, your phone may be hacked, turn on this setting immediately

<