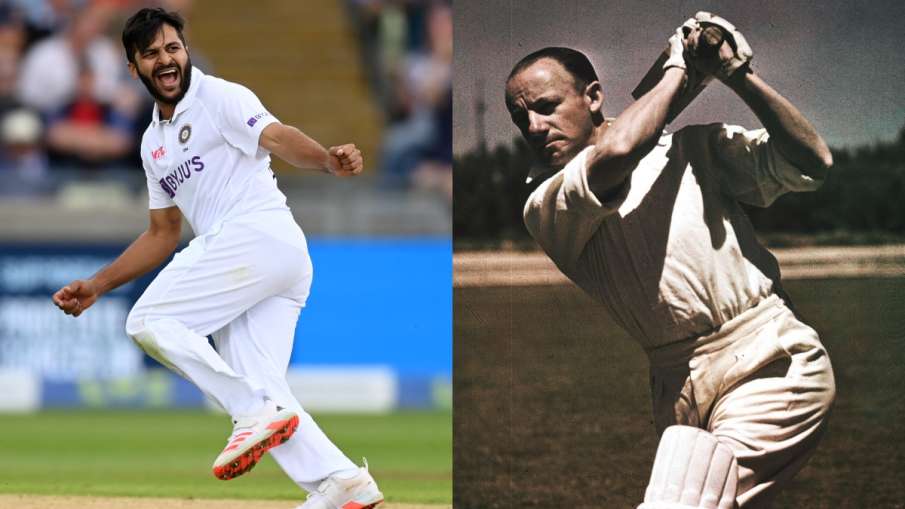 Image Source : GETTY AND ICC TWITTER
Shardul Thakur And Don Bradman
Shardul Thakur WTC Final 2023: In the final of the World Test Championship, Ajinkya Rahane and Shardul Thakur played brilliantly in the third day match against Australia. It was because of him that Team India could reach 296. Australia scored 469 runs in their first innings. For this reason, Australia has a lead of 173 runs. Shardul Thakur won everyone's heart with his excellent batting against Australia and equaled a big record of Don Bradman. Let's know about it.
Shardul Thakur did wonders
The start of the Indian team was not good. When captain Rohit Sharma and Shubman Gill were out early. India had lost 6 wickets for 154 runs. But after this Ajinkya Rahane and Shardul Thakur together got Team India out of trouble. Shardul scored 51 runs in 109 balls, hitting 6 fours. This is his third consecutive half-century on the ground of Oval. He became the third overseas batsman to score three consecutive fifties in Test cricket at The Oval. Australia's Sir Don Bradman has also scored three consecutive fifties at The Oval.
Foreign batsmen who scored three consecutive fifties at the Oval:
Sir Don Bradman – 3 fifties (1930- 1934)
Allan Border – 3 fifties (1985-1989)
Shardul Thakur – 3 fifties (2021-2023)
Team India won many matches
Shardul Thakur has played cricket for India in all the three formats. He made his Test debut for India in the year 2018 against the West Indies. He has so far scored 27 wickets and 254 runs in Test matches. At the same time, he has taken 50 wickets in ODIs. At the same time, he has taken 33 wickets in T20 matches. He is famous as Jodi Breaker. Whenever the Indian captain needed a wicket. He hands the ball to Shardul.
Latest Cricket News
Read breaking news, live news updates and special stories from India and abroad on connexionblog Hindi News and keep yourself up-to-date. Click for Cricket News in Hindi sports section


<