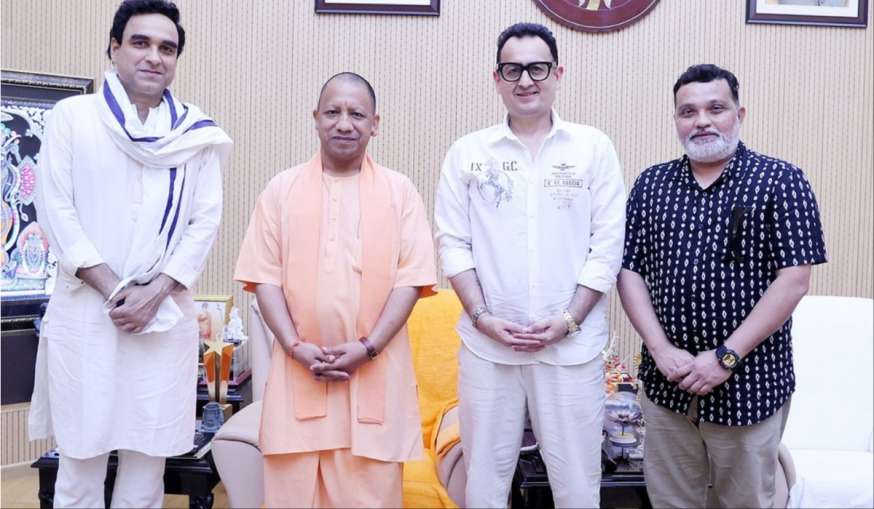 Image Source : INSTAGRAM
Pankaj Tripathi Meet Cm Yogi Adityanath
Pankaj Tripathi Meet Cm Yogi Adityanath: The film on former Prime Minister of India and Bharat Ratna Atal Bihari Vajpayee has been in the news ever since it was announced. Ever since the release of the motion poster of the film 'Main Atal Hoon', people are praising Pankaj Tripathi's look in Atal Bihari Vajpayee's getup. Actor Pankaj Tripathi and producer of 'Main Atal Hoon' recently met Uttar Pradesh Chief Minister Yogi Adityanath in Lucknow. The film's team is currently shooting for the second schedule of the film in the city. CM Yogi Adityanath posted a picture of his meeting with Pankaj, producer Vinod Bhanushali and director Ravi Jadhav on social media.
Pankaj Tripathi and team –
Sharing the photo, Yogi Adityanath wrote in Hindi on Instagram, "Today in Lucknow, courtesy meeting with famous actor Shri Pankaj Tripathi ji, film producer Shri Vinod Bhanushali ji and film director Shri Ravi Jadhav ji." The photo has been clicked in the CM office. In the photo, Pankaj Tripathi was seen in a new look for the film. As soon as this photo was posted, the film Main Atal Hoon and Pankaj Tripathi came in the limelight on social media. During the meeting, the team of 'Main Atal Hoon' discussed the Atal Bihari Vajpayee biopic and their shooting plans in the state capital city. The team will spend 16 days shooting for the film in the city. Directed by Ravi Jadhav, Main Atal Hoon stars Pankaj Tripathi as late former Prime Minister of India Atal Bihari Vajpayee. Pankaj Tripathi had given this information a few days ago with the caption of a post, "Atal ji and Lucknow ka bada mashhoor hai kissa, ab banega unke biography ka part."
Pankaj Tripathi's workfront –
Talking about Pankaj Tripathi's workfront, he is going to be seen once again in the third part of Mirzapur. Apart from this, Pankaj will be seen in the sequel of the most awaited film 'Oh My God 2'. Akshay Kumar will be seen playing the lead role with him in this film. Pankaj Tripathi has also done a strong job in 'Mirzapur' and 'Criminal Justice' web series.
read this also-
Ghum Hai Kisikey Pyaar Meiin: To stop Virat, Sai will throw Satya out of her life like a fly!
Manjari will reveal the truth to Abir in Yeh Rishta Kya Khelata Hai, Aarohi's life will be eclipsed
On Naseeruddin Shah's 'award' statement, Manoj Bajpayee said – I didn't do my job…
Latest Bollywood News
Read breaking news, live news updates and special stories from India and abroad on India TV Hindi News and keep yourself up-to-date. Click for Bollywood News in Hindi entertainment section


<