Adipurush: The film 'Adipurush' has been in discussions for a long time. The fans of this film are eagerly waiting. Recently the trailer of the film has also been launched in Tirupati. Which got a very good response. A dispute has also arisen in the midst of all this. Actually the team of the film reached Tirupati temple for darshan after the trailer launch event. In such a situation, when everyone was saying goodbye to each other after darshan, director Om Raut kissed Kriti Sanon while saying goodbye. On which a dispute has now arisen. Users are furious after seeing the video going viral on social media, while the BJP leader has also spoken controversially about it.
Om Raut kisses Kriti goodbye in the temple premises
In the video going viral on social media, director Om Raut and Kriti Sanon are seen in the temple premises. After Darshan, when Kriti is saying goodbye to the team from there, Om Raut hugs her and then kisses her goodbye. In such a situation, a controversy has arisen over the two hugging and kissing each other in the premises of the temple and people whose feelings have been hurt are venting their anger on social media.
The BJP leader was annoyed by this
It is common to kiss someone goodbye or goodbye. Especially in the film industry, but BJP's State Secretary Ramesh Naidu did not like this at all. Tagging Prabhas Kriti, he tweeted, 'Is it necessary that such acts are done in a holy place like a temple? Kissing and hugging like this in Lord Venkateswara Swamy's temple…this is not acceptable at all. This is absolutely humiliating. However, he later deleted his tweet.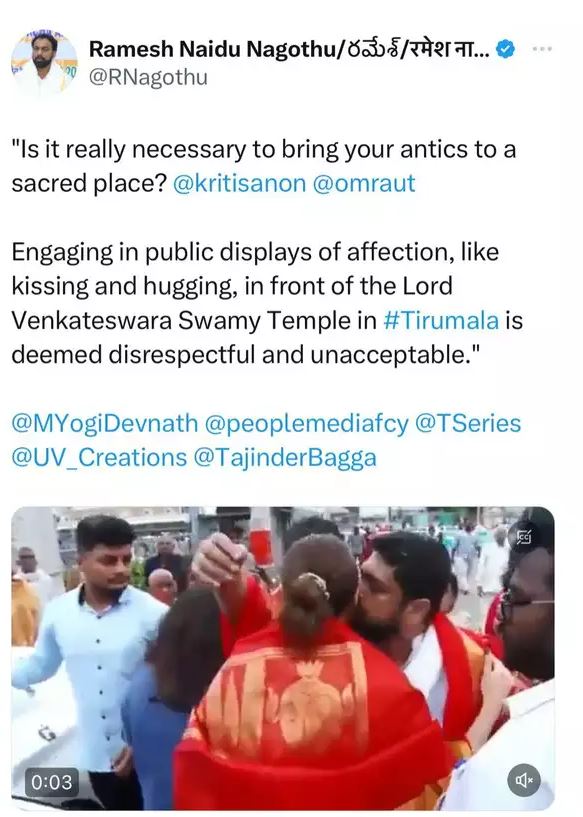 Also read: Dimple Kapadia Birthday: Failed in love, unaware of culinary arts, but when she entered the field of acting, Dimple flourished

<