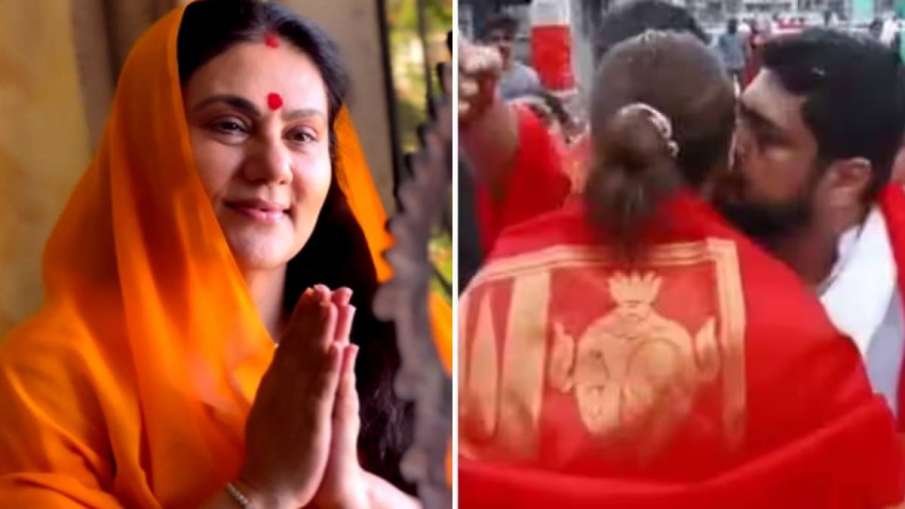 Image Source : INSTAGRAM Dipika Chiklia AKA Sita of Ramayana
Dipika Chiklia troll Kriti Sanon: Deepika Chikhlia, who plays Sita in the most popular TV serial 'Ramayana', is quite outspoken. She is active on social media and even today her fans call her by the name of Mata Sita. Now Deepika has reacted to the controversy, which is in headlines these days. We are talking about the Kiss controversy between filmmaker Om Raut and Kriti Sanon. On this occasion, Deepika has said something about Kriti that you too will be stunned to hear.
What did Deepika say about Kriti
In fact, Om Raut was seen bidding goodbye to Kriti Sanon outside the Tirupati temple complex. At this point, Om kisses Kriti on the cheek. Expressing her displeasure with this incident, Deepika said that Kriti might not have considered herself as Sita. Kriti will be seen as Janaki in Om Raut's upcoming 'Adipurush' based on the epic Ramayana.
Actors are unable to make a connection with the character
On Kriti Sanon and Om Raut's kiss, Dipika Chikhaliya said in a conversation, "I believe this is a big problem with this generation of actors as they neither get into the character nor understand their emotions. For them Ramayana must have been just a film. Maybe they are not spiritually connected with it. Kriti is today's generation actress. Kissing or hugging someone is considered a sweet gesture in today's era. Must not have understood it. It becomes a matter of emotions. I have lived the character of Sita whereas today's actresses consider it just a role. After the film or project is over, they don't care anymore."
'Gadar 2' Teaser: Son-in-law will go to Pakistan after 17 years
There were limits on the set of Ramayana
Along with this, Deepika recalled the shooting of Ramanand Sagar's TV show 'Ramayana' at that time. He said, "If we talk about ourselves, no one dared to call us by our names. When we were in our characters, many people used to come and touch our feet on the sets itself. It was a different era. At the time, they didn't see us as actors; they considered us gods. We couldn't even hug anyone, leave alone a kiss. The Adipurush actor is busy with his next projects after the release (of the film) Will go and forget about our characters. But this never happened with us. We were treated as if we were gods descended from above and lived in this world. So we never did anything that made people whose feelings get hurt."
Akshay Kumar, Ranbir Kapoor and Sunny Deol will clash at the box office

<