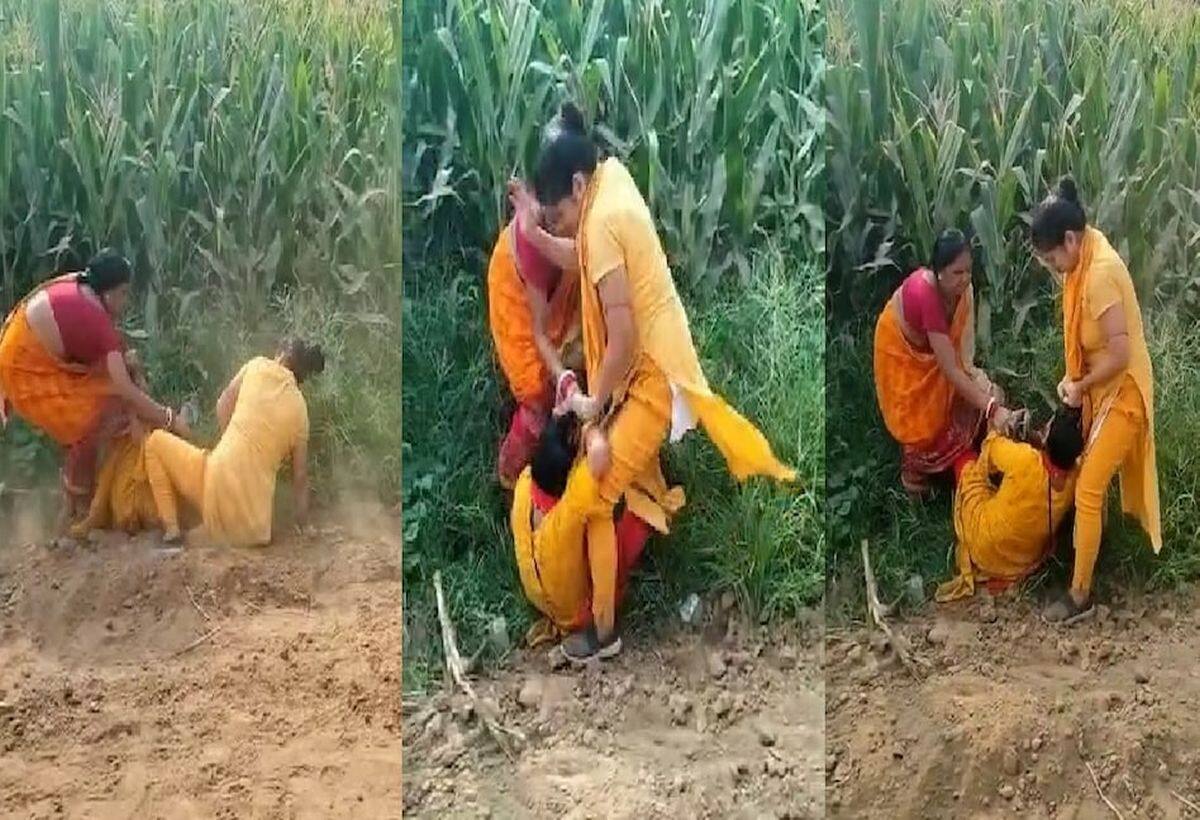 A shocking video of a fight between female headmaster and teachers has come to light from a government school in Bihar's capital Patna (Viral video of patna). The women headmaster and teachers clashed with each other in the school. Both beat each other fiercely from school to farm. During this, there was fierce fighting between the headmaster and the teachers. The situation was such that both of them beat each other by throwing them on the ground in the field. During the fight, a youth made a video of the incident and made it viral on social media. The Block Education Officer of Patna has sought an answer in the matter.
This case pertains to the premises of the middle school of Korea Panchayat located in Bihta block of Bihar. It is being told that there was a fight between female headmaster Kanti Kumari and teacher Anita Kumari over a mutual dispute. During this, there was fierce kicking between the two. Between the two, from the school to the farm, there was fierce kicking and punching. In this great war, they kept pulling each other's hair. The villagers present during this time remained silent spectators.
The process of beating and tossing each other went on for a long time in the field. During this, the mother of the female teacher also beat the other teacher with slippers. Seeing this fight, a huge crowd gathered there. People were surprised to see this fight between the two teachers. He said that this would have a bad effect on the children. Meanwhile, someone captured this incident on camera and made it viral.
related news
war on old dispute
Regarding this matter, Panchayat head husband Rakesh Kumar told ABP News that a dispute was going on between the two female teachers for the last several months. There was a dispute between the two about five months ago. During that time a meeting was held between the Block Education Officer and the representatives of the Panchayat and the matter was settled. But once again there has been a fierce fight between the two. A demand has been made to the Block Education Officer that both the teachers should be transferred.
read this also- Controversy over 44th rank in UPSC result, confusion over two Tushars with same name and roll number
On the other hand, in relation to this incident, Block Education Officer Nabeesh Kumar said that the matter is of a school. There was a dispute going on between the headmaster and the teachers for a long time. Due to this this incident has happened. Explanation has been sought from both the teachers and higher officials have also been informed about the matter. Further action will be taken on the basis of the report that will come out after the investigation of the case.

<