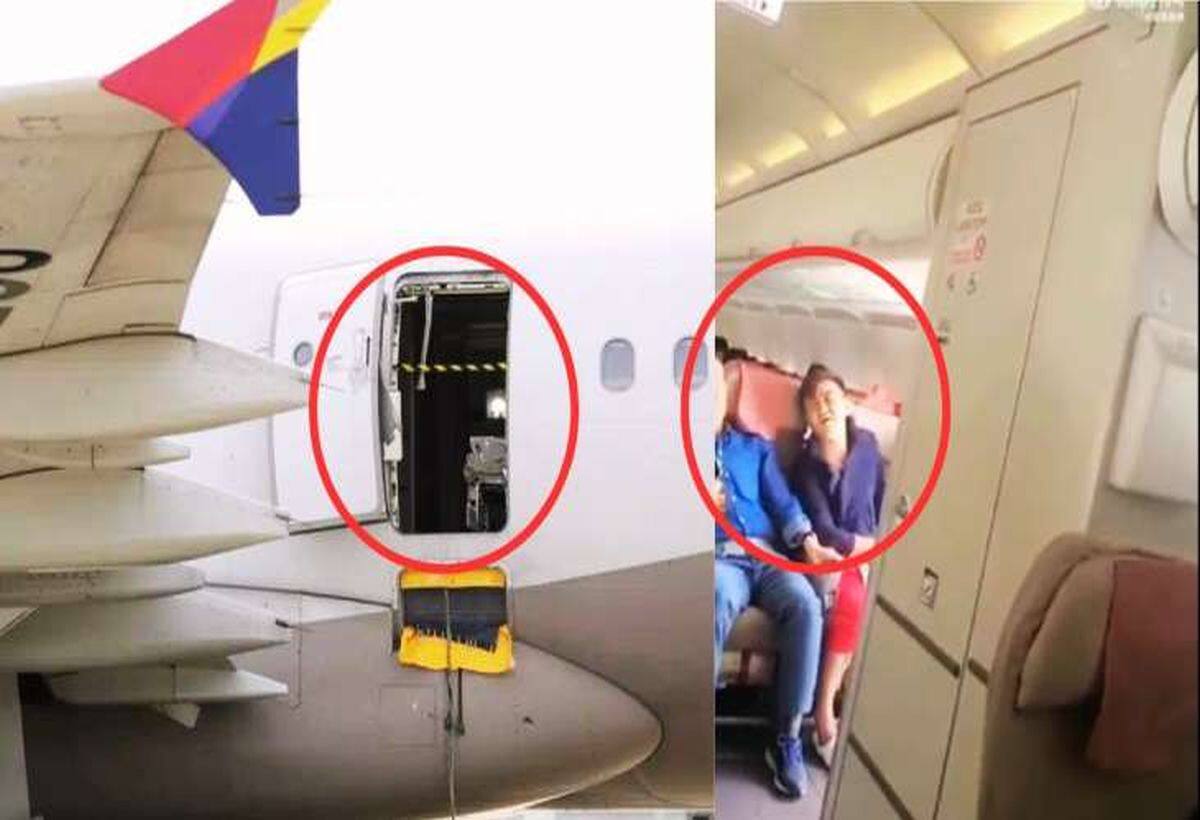 Shocking Video: During the take-off of a South Korean flight, a passenger opened the emergency gate on Friday, which filled the air inside the cabin. There were only two minutes left for the flight to land, when the passenger opened the emergency gate in mid-air. However, the flight later landed at the airport safely. The video of this incident is now being widely shared on social media. The passenger who opened the gate has been arrested. According to a CNN report, there were 194 passengers on board the flight. During this, 12 passengers were injured, who have been admitted to the hospital.
South Korea's transport ministry said some people on board the Asiana Airlines Airbus A321 aircraft tried to stop the man from opening the door, but it was still partially open. According to Asiana Airlines, Flight 194 was carrying passengers from the southeastern city of Daegu to the southern island of Jeju. It is being investigated that how long the door remained open.
According to the BBC, a man has been arrested for allegedly opening the emergency gate of a flight on landing in South Korea. All 194 passengers survived unhurt. The incident took place on Friday at Daegu International Airport.
related news
many passengers injured
Local media reported that some passengers fainted while others were having trouble breathing. All the injured passengers were immediately taken to the hospital. Yonhap news agency reported that the 30-year-old man was arrested upon landing.
An eyewitness aboard the flight told that after the gate opened, suddenly it seemed that there was going to be an explosion in the plane. Passengers sitting near the door started fainting. No one in the flight could understand anything. Children were crying and some passengers were trembling with fear.
Read this also- VIDEO: Patna's government school became an arena! Fierce kicking and punching between the female headmaster and teachers, there was a scuffle in the field
What's in the viral video?
A video of the incident is going viral on social media, in which some passengers' hair was seen flying due to the wind. The airlines said the incident scared some passengers, but no one was hurt. However, some passengers were examined at the hospital. The police is now probing the whole matter in depth.
Horrible! A passenger opened an emergency exit door during a South Korean flight, causing air to gust inside the cabin before the plane landed safely.#SouthKoreanFlight #AsianaAirlines #EmergencyLanding pic.twitter.com/OXOAFlDLNs
— Ajeet Kumar (@Ajeet1994) May 26, 2023
After this horrific incident, 9 passengers have been taken to a nearby hospital. These people were having trouble breathing. The good thing is that all the passengers were sitting on their seats and they were wearing seat belts. The incident happened when the flight was about to land at the airport.
New images of this incident have been released, from another angle, as well as an exterior photo of the plane where it can be seen that the evacuation ramp is missing. Authorities are still investigating what happened. unknown pic.twitter.com/BnkrRiRjd9 — On The Wings of Aviation (@OnAviation) May 26, 2023


<