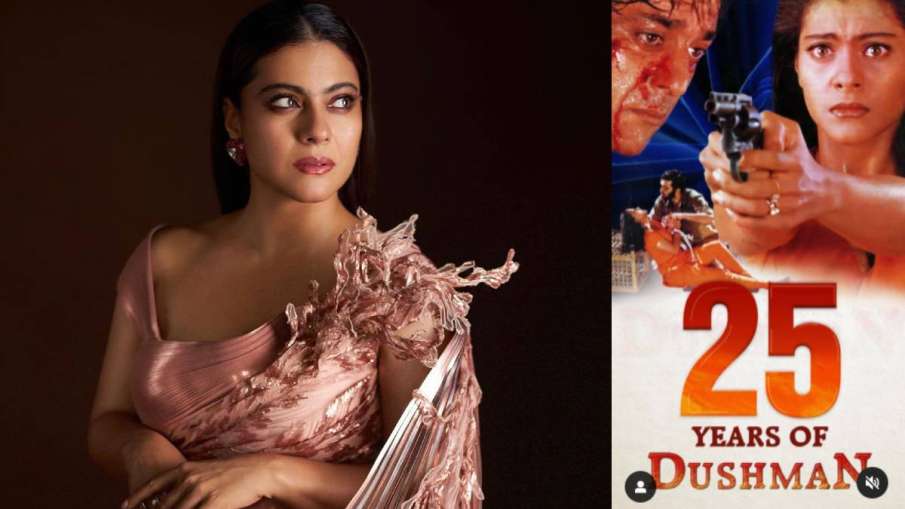 Image Source : INSTAGRAM
25 years of Dushman
25 years of Dushman: Actress Kajol has given many great films to Bollywood in her career. 'Dil Wale Dulhaniya Le Jayenge', 'Kuch Kuch Hota Hai', 'Gupt' is another film of his in this line which is still keeping its place in people's favorite list. The name of this film is 'Dushman' which was released on Monday, 29th May, it has completed 25 years. Kajol has made a big disclosure on the 25th anniversary of the film's release.
Long post written on social media
On completion of 25 years of the film, Kajol has narrated such an anecdote on Instagram that you too will be stunned to hear. In this post, Kajol described it as the scariest film she has ever seen. Kajol shared moments from the 1998 film on Instagram. With which some unheard things were also narrated to the fans in the long post.
Ashutosh Rana really scared Kajol
Kajol wrote, "25 years of 'Dushman'. One of the scariest films I've ever said yes to and hardly ever watched the film. The way Ashutosh Rana scared me on screen and I'm sure You must be scared too. Thank you so much Aaj Tak Aaj Tak to Pooja Bhatt and Tanuja Chandra for making me so comfortable with such an uncomfortable subject. It is still such an uncomfortable film for me to watch."
Dhanush's condition became such, seeing people at the airport said- Baba Ramdev in pant t-shirt
After The Kerala Story, Ravi Kishan demanded to make this film tax free, know the reason
remake of hollywood movie
'Dushman' is a psychological thriller film starring Kajol, Sanjay Dutt and Ashutosh Rana. The film is directed by Tanuja Chandra and produced by Mukesh Bhatt and Pooja Bhatt. The film is a remake of the Hollywood film 'Eye for an Eye'.
Sara Ali Khan got into a fight with Rakhi Sawant! There was a ruckus on wearing the same dress
Malaika Arora shared such a photo of boyfriend Arjun Kapoor, people accused of obscenity
Latest Bollywood News

<