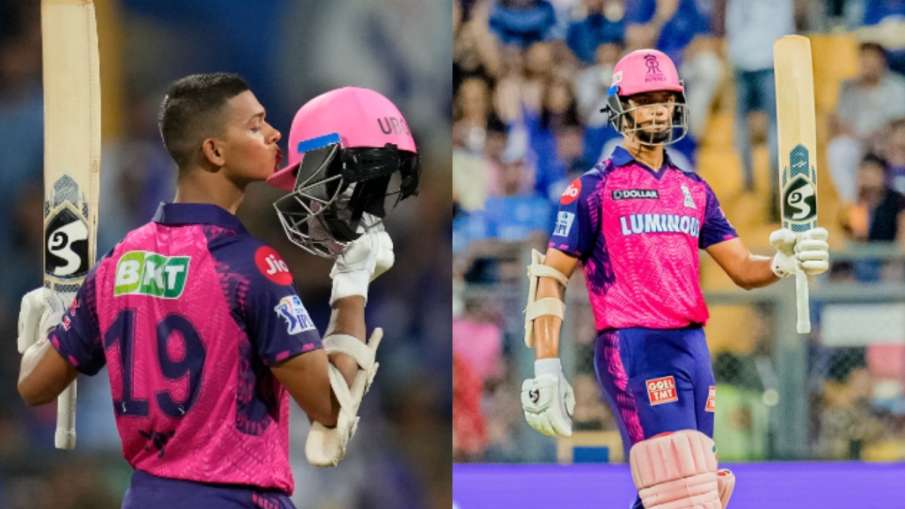 Image Source : IPLT20.COM Yashasvi Jaiswal
In the 42nd match of IPL 2023, the match is currently being played against Mumbai Indians and Rajasthan Royals. In this match, Rajasthan Royals captain Sanju Samson won the toss and decided to bat first. Yashasvi Jaiswal did amazing batting for Rajasthan Royals. He scored a fiery century against Mumbai and won everyone's heart with explosive batting.
Yashasvi scored a century
Yashasvi Jaiswal batted brilliantly from the start of the innings. He hit strokes all over the ground. He has scored a century for the first time in IPL. He scored 100 runs in 53 balls, which included 12 fours and 6 sixes. He has become the fourth youngest batsman to score a century in IPL. He has left behind players like Sanju Samson and Quinton de Kock. Yashasvi got out after scoring 124 runs in 62 balls.
Youngest batsman to score century in IPL
1. Manish Pandey – 19 years 253 days
2. Rishabh Pant – 20 years 218 days
3. Devadatta Paddikal – 20 years 289 days
4. Yashasvi Jaiswal – 21 years 123 days
5. Sanju Samson – 22 years 151 days
6. Quinton de Kock – 23 years 122 days
Third century in IPL 2023
This is the third century in IPL 2023. Earlier, Harry Brook of Sunrisers Hyderabad and Venkatesh Iyer of Kolkata Knight Riders scored centuries. Yashasvi Jaiswal is performing brilliantly in IPL 2023. He has scored 428 runs in 9 matches so far in IPL 2023. He is the highest run scorer in IPL 2023.
Rajasthan won many matches
Yashasvi Jaiswal had performed brilliantly in the Under-19 World Cup. After this, the team of Rajasthan Royals added him for Rs 2.40 crore. He is playing in IPL since the year 2020. He has so far scored 975 runs in 32 IPL matches, including a century. In IPL 2021, he scored 249 runs in 10 matches for the Rajasthan team. After this, he scored 258 runs in IPL 2022 and continued his excellent form. He has become an important link in the batting order for the Rajasthan team.
Latest Cricket News
Read breaking news, live news updates and special stories from India and abroad on connexionblog Hindi News and keep yourself up-to-date. Click for Cricket News in Hindi sports section


<