KCR Inaugurates Telangana Secretariat: Telangana Chief Minister K Chandrasekhar Rao inaugurated the 'Telangana Secretariat' on Sunday (April 30). During this, he said, "It is the biggest fortune of my life that today the Secretariat is being inaugurated by my hands as an administrative center." It is superbly made. It has been named BR Ambedkar Secretariat.
He said that Hyderabad is fast becoming an international city. It is equipped with all kinds of facilities, many flyovers, overbridges, underpasses, it is a grand reconstruction. Super Specialty Hospital, Warangal Health City is developing everywhere, it is a symbol of Navnirman of Telangana.
The Chief Minister said that you all know that after the struggle of all of us, the dream of Telangana state has come true. To make India proud, the State Secretariat has been named BR Ambedkar Secretariat.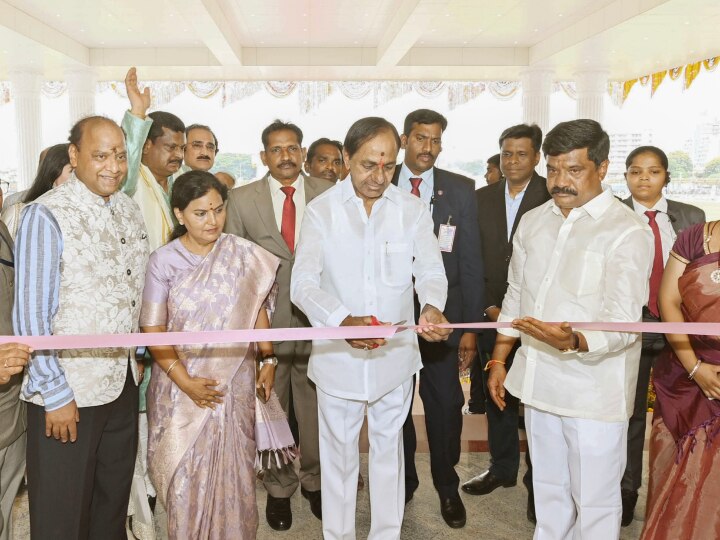 'Telangana ahead of Bengaluru in industrial policy and IT policy…'
CM KCR said that Telangana is moving forward in many areas. We are at the top in the country as a state attracting investment of lakhs of crores of rupees in industrial policy besides welfare of the farming community with integrated development. Telangana is moving ahead of Bangalore in industrial policy and IT policy. He said that people in Telangana have been living safely for ten years without any minor communal riots. Telangana Police has become the leading police of the country.
'May this grand building never perish'
The Chief Minister said that the Yadadri temple has been reconstructed, from here the people of Telangana are getting blessings with both hands. Reconstruction of Telangana is ideal for the country and the world. The CM said, "I pray that this grand building of administration should never be destroyed."
KCR said, "There are two indicators to measure development and reconstruction in the world. One is per capita income and the other is per capita electricity use. Telangana is the number one state in the country with a per capita income of Rs.3,00,017. Telangana, once a state with 1,100 units per capita electricity consumption, has today become the highest per capita electricity consumption state in India with 2,140 units. On behalf of the people of Telangana, I salute the laborers and workers from different states who participated and sweated in this construction.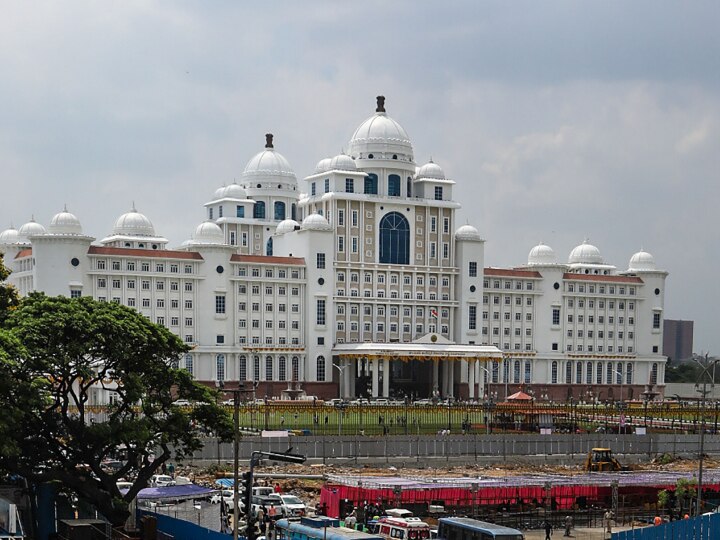 'Telangana villages are also wonderful'
Chief Minister KCR said that we have seen many backward districts in Telangana region except Hyderabad and other nine districts. Our administrative building – this Secretariat – is as wonderful as the villages of Telangana are. There are no villages like Telangana anywhere in the country. there's no doubt about it. We have created a wonderful Telangana with the coordination of people's representatives and officials. From Chief Secretary to Attendant, have contributed in making Telangana State Secretariat a reality.
With the message given by Dr. BR Ambedkar, we achieved Telangana state by peaceful struggle on the path shown by Gandhiji. Our journey continues on the path shown by Ambedkar. We got the inspiration from Babasaheb to bring smile on the faces of all the communities in Telangana, so on the occasion of his birth anniversary, a huge statue of him was installed to increase the pride of the nation.
The Chief Minister said that all the Chief Ministers, Ministers and officers coming to the Secretariat should show unity and work keeping his message in mind to carry forward the ideals of Babasaheb.
The Chief Minister said, "Some people are unable to digest the spirit, meaning and desire of the reconstruction of Telangana. Some little people and dwarfs have commented that rebuilding Telangana means tearing the whole thing apart and washing it again. Worked regardless of these comments. Today I feel proud that my Telangana state has become as high as the sky.
'Telangana's engineers have done engineering wonders in the world'
KCR said, "Telangana's engineers have done engineering wonders in the world. The multi-purpose lift irrigation system here is on top of the world. This is reconstruction. There is irrigation facility in lakhs and crores of acres of land in Telangana. In Yasangi crop, the total area of ​​paddy in India is 94 lakh acres. I am proud to say that it is cultivated in 56 lakh acres in Telangana alone.
Rebuilding Telangana means a Kaleshwaram, Palamuru upliftment, Sitaram project. The electricity went off at midnight. Now that the generator, inverter and converters are gone, this is the rebuild. I wish to inform those dwarves that our forests, which had become decayed and devoid of leaves, are now reviving with green beauty. This is the reconstruction of Telangana.
The Chief Minister said, "Our District Collectors and District SPs, who are providing excellent administration in 33 districts under my leadership, are working hard under my leadership. 33 collectorates, 33 police offices in 33 districts are shining with lights, this is the reconstruction of Telangana.
Also read- Brij Bhushan Singh Interview: 'I will resign immediately if the Prime Minister says', Brij Bhushan Singh told ABP News on the allegations of wrestlers

<