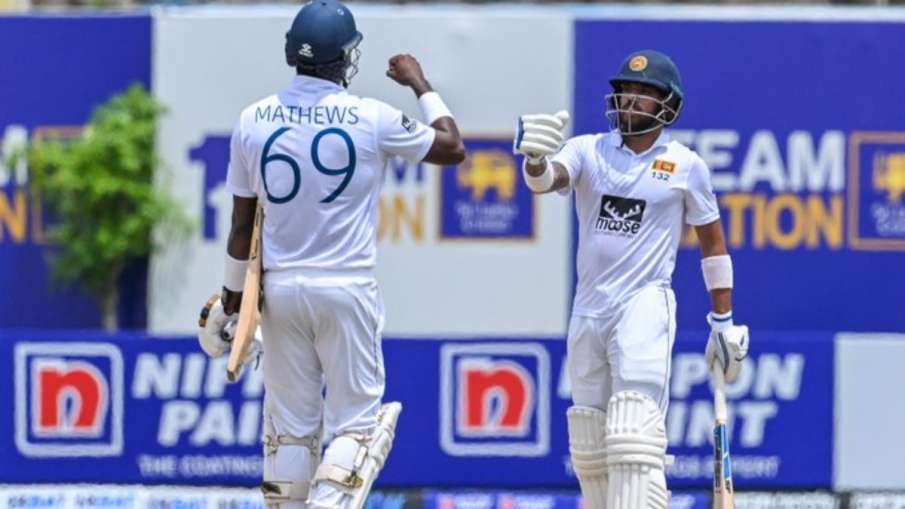 Image Source : TWITTER ICC Sri Lanka Cricket Team
The Sri Lankan team has achieved a new milestone in Test cricket. Sri Lanka has made a big record after winning the two-match Test series against Ireland by 2-0. It has become the third team in Asia to do so. Sri Lanka registered their 100th Test win after defeating Ireland by an innings and 10 runs in the second Test. Earlier, two giant teams of Asia, India and Pakistan had done this. At the same time, he has become the eighth such team overall. Australia is on top in terms of winning the most Test matches.
Sri Lanka won the first match of the home series against Ireland by an innings and 280 runs. After that, the team won the second Test match by an innings and 10 runs on the last day to win the series and also achieved this feat. Four batsmen scored centuries for Sri Lanka in the second Test match played in Galle. Which included Nishan Madhushanka's 205 and Kusal Mendis's 245. Apart from this, captain Dimuth Karunaratne scored an inning of 115 runs and Angelo Mathews scored an unbeaten 100 runs. Paul Stirling and Curtis Campher scored centuries in this match for Ireland as well.
Australia – 405 wins (853 matches) England – 388 wins (1060 matches) West Indies – 182 wins (571 matches) South Africa – 177 wins (460 matches) India – 172 wins (569 matches) Pakistan – 146 wins (451 matches) New Zealand – 112 wins (464 matches) Sri Lanka – 100 wins (311 matches)
Talking about Sri Lanka, he has played a total of 311 matches in the history of his Test cricket. He has won in 100 and lost in 119. While 92 Test matches have ended in a draw. Sri Lanka's winning percentage is 45.66. Out of 100 wins, 84 matches have been won by the Sri Lankan team on Asian soil, out of which 68 have been won at home. While he has won the remaining 6 matches in Zimbabwe, 3 matches in England, 3 matches in South Africa, 2 matches in New Zealand and two matches in West Indies.
Read this also:-
Latest Cricket News
Read breaking news, live news updates and special stories from India and abroad on connexionblog Hindi News and keep yourself up-to-date. Click for Cricket News in Hindi sports section


<