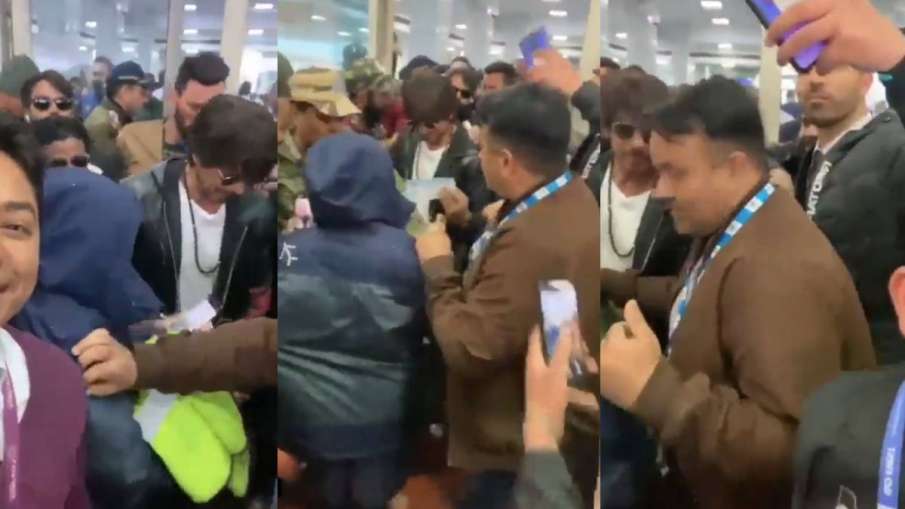 Image Source : TWITTER
Shah Rukh Khan
Shah Rukh Khan Mobbed: After the stupendous success of the film 'Pathan', Shah Rukh Khan is now busy shooting for his next film. These days he is back on the field to complete 'Dunky' directed by Rajkumar Hirani. The superstar has gone to Kashmir to shoot for the second schedule of the film. From where recently one of his videos was leaked on social media. And now a video has surfaced in which Shahrukh Khan is seen stuck in the crowd at the airport.
The crowd surrounded Shahrukh
Shah Rukh is back on the floors for Rajkumar Hirani's directorial venture Danky. His film with Taapsee Pannu is going to release this year. That's why the star is constantly busy completing the shooting. Now in a video the Bollywood superstar was seen leaving Srinagar to board a flight where he was heckled by fellow passengers. In the viral video, Shah Rukh Khan is seen surrounded by hordes of fans trying to take selfies with him. Meanwhile, Shahrukh is seen troubled to find a way.
This is the look of King Khan
In the viral picture shared on several fan pages on social media, Shah Rukh can be seen dressed in a black jacket teamed with a white T-shirt and cargo pants. He accessorised his look with black sunglasses. People are praising this look of Shahrukh and his calm nature. People are saying in the comments that if there was any other star, he would have been upset by now. But Shah Rukh is really cool.
Janhvi Kapoor was dancing when a person did such an act, the actress gave a strange reaction
Shahrukh will be seen in these films
Talking about the work front, Shahrukh is very busy these days. Recently he appeared in the blockbuster 'Pathan' alongside Deepika Padukone and John Abraham. 'Pathan' broke many records and became the most successful Hindi film of all time. Apart from this, Shah Rukh will soon be seen in Atlee's 'Jawaan' alongside Nayanthara and Vijay Sethupathi. The film is scheduled to release on June 2, 2023. Along with this, Shahrukh will soon be seen in an action sequence with Salman in 'Tiger 3'.
International Dance Day: These 7 Bollywood actresses are experts in classical dance, Priyanka Chopra is also in the list
Latest Bollywood News

<