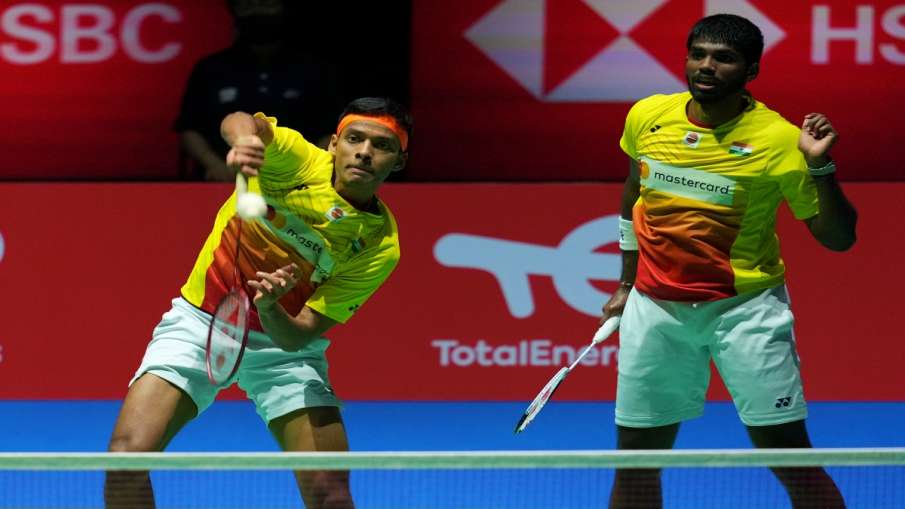 Image Source : GETTY
Satwiksairaj Rankireddy and Chirag Shetty
Satwiksairaj Rankireddy and Chirag Shetty ended a wait of 52 years to win the men's doubles gold for India at the Asian Badminton Championships. The World Championship 2022 bronze medal-winning pair made a stunning comeback after losing the first game to defeat Malaysia's Ong Yew Sin and Teo Ee Yee.
History created after 52 years
Satwiksairaj Rankireddy and Chirag Shetty lost the first game but after that the team came back with a bang. The Satwik-Shetty pair defeated Malaysian pair of Ong Yew Sin and Teo Yee Yee 16-21, 21-17, 21-19. Earlier, the only gold medal for India in this championship was won by Dinesh Khanna when he defeated Thailand's Sangob Rattanusorn in the men's singles final in Lucknow in 1965. Prior to this, the best performance of the Indian men's doubles team in this championship was the bronze medal won by Dipu Ghosh and Raman Ghosh in 1971.
Satwik and Chirag, who won the Swiss Open Super 300 title in Basel, did not give up despite losing the first game and fought back from 7-13 down in the second game and 11-15 in the third game. This is the second title of this season for this pair. He won five career titles last year at the Commonwealth Games and the BWF Tour.
This statement given after the title
Chirag Shetty said that I am in seventh heaven. Me and Satwik had worked very hard for this medal. I am happy that we won the title. I would like to thank everyone who encouraged us. Satwik said that it is a good feeling to win this tournament for the first time. I am sure will win more titles in future. Will continue to work hard to hoist the flag of India. 22-year-old Satwik from Amalapuram and 25-year-old Chirag from Mumbai showed a very aggressive game. The first game was a draw in which the Malaysian pair prevailed.
bounce back
In the second game too, the Malaysian pair took the lead. The Indian pair came back from 8-13 down. On Teo's mistake, Satwik turned the match around with a powerful backhand smash. The technical skill of the Malaysian pair was commendable in the decider game, as they took an 11-8 lead. The Indian pair narrowed the gap to 14-15 and then went ahead at 17-16. Chirag's smashes on the backhand sealed the match for the Indian pair.
Read breaking news, live news updates and special stories from India and abroad on connexionblog Hindi News and keep yourself up-to-date. Click for other sports news in Hindi sports section


<