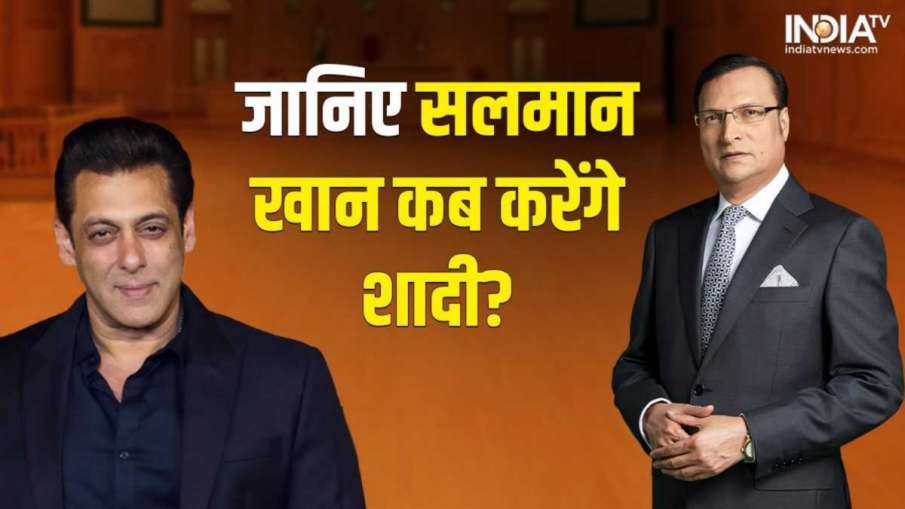 Salman Khan
Recently Bollywood superstar Salman Khan's film 'Kisi Ka Bhai Kisi Ki Jaan' (Kisi Ka Bhai Kisi Ki Ki Jaan) has been released in theatres. Meanwhile, Salman Khan is present in the dock. He is answering questions from India TV Chairman and Editor-in-Chief Rajat Sharma. During this, Rajat Sharma asked Salman Khan, when do you intend to get married? Salman Khan said that when such a person comes, it will happen. He said all my previous girlfriends were good, the fault is in me. It could have been his fault when the first one left. When the second and third went away, it could be their fault, but when the fourth went away, there was a doubt whether it was theirs or mine. In the fifth case it could have been 60:40, but when everyone left it is certain that it was my fault. Perhaps there was some kind of fear in his mind that I would not be able to give him happiness in life. I am sure they are happy wherever they are.
there's still time i'm 57
Rajat Sharma asked Salman Khan, the whole world wants to know when will you get married? On this, Salman Khan said, whenever he wants. When God wills. Two people are needed for a marriage. In the first case the marriage did not take place. When I said yes, nobody said no. When someone said yes, I said no. Now there is 'no' from both the sides. When both the parties say 'yes', the marriage will take place. There is still time I am 57 years old I want this time to be first and last means there should be a wife.
Salman wants so many children
Rajat Sharma said how many children do you want? On this Salman Khan said as many as possible. If I have one and after 5-6 years another, I can play with them for 20-25 years. This is called dedication, persistence, perseverance. Rajat Sharma said that your parents have been waiting for their daughter-in-law for a long time. On this Salman Khan said Sir, what can I say. There was no plan for the daughter-in-law, it was for the children, but India's law doesn't allow (adoption).
This incident happened with Ranbir Kapoor in a public place, the actor was embarrassed, watch video
Around 200 celebrities have registered their presence in 'Aap Ki Adalat'. Talking about digital platforms, the videos of 'Aap Ki Adalat' have been viewed more than 170 crore times, which is a record in itself. Not only this, the show has aired over 1100 episodes on TV, and is among the world's most watched news shows on YouTube. 'Aap Ki Adalat' has been the only platform where Aamir Khan, Salman Khan and Shah Rukh Khan have appeared together.
Latest Bollywood News

<