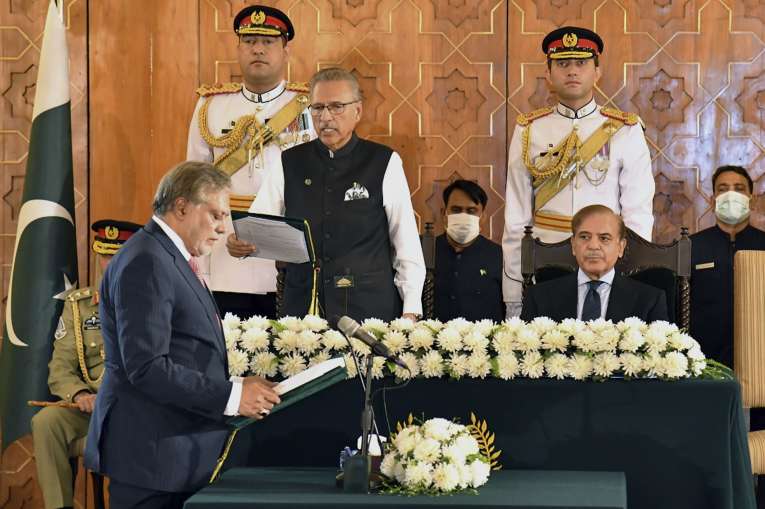 Image Source : AP Arif Alvi, President of Pakistan with PM Shehbaz Sharif
Former Prime Minister of Pakistan Imran Khan's troubles are going to increase again. This time Pakistani President Arif Alvi is also in the wrap with him. In fact, a petition has been filed against Pakistani President Arif Alvi, ousted Prime Minister Imran Khan and former chief of intelligence agency ISI Faiz Hameed and others, demanding an investigation into the regrouping of terrorists in the restive Khyber Pakhtunkhwa province in a few years Is.
The petition sought setting up of a judicial commission that would probe how terrorists regrouped and strengthened in Khyber Pakhtunkhwa province over the past few years. A petition filed by the Awami National Party (ANP) in the Peshawar High Court on Thursday requested that immediate and concrete measures be taken to restore peace in the restive province. The petition also urged that terrorists should not be given a chance to organize there.
Demand to form judicial commission
ANP's provincial chief Aimal Wali Khan has named Imran Khan, President Alvi, former Inter-Services Intelligence (ISI) director general Hameed, former chief minister Mahmood Khan and former provincial government spokesman Barrister Saif in the petition and called for an investigation into the matter. Demanded formation of judicial commission. The federal and provincial governments have also been made parties in the petition. It said that peace was restored after the sacrifices of the police and other security forces, as well as the efforts of the ANP government.
Latest World News
Read breaking news, live news updates and special stories from India and abroad on India TV Hindi News and keep yourself up-to-date. Click on Foreign section for Around the world News in Hindi


<