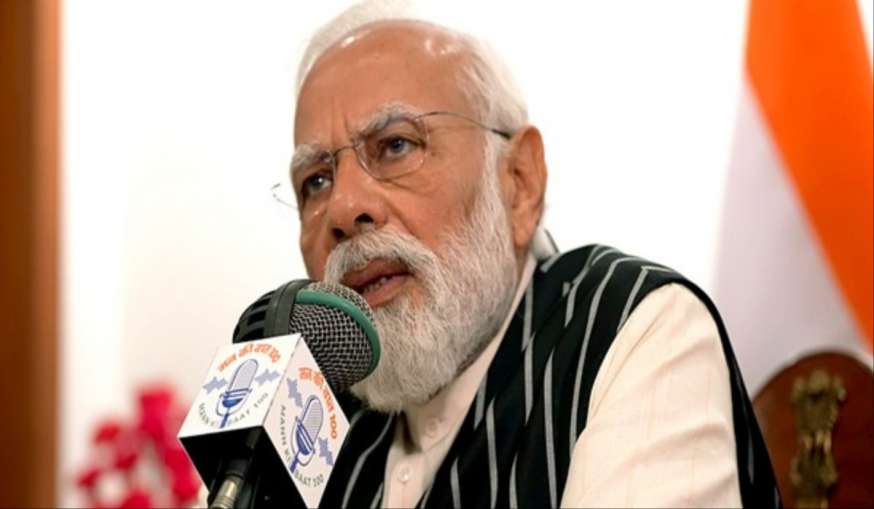 Image Source : ANI
Mann Ki Baat with PM Modi
Mann Ki Baat 100th Ep: The 100th episode of Prime Minister Narendra Modi's famous radio program 'Mann Ki Baat' was broadcast on Sunday. In which many politicians and celebs participated in the program of broadcasting the 100th episode of 'Mann Ki Baat'. Actress Madhuri Dixit, actor Shahid Kapoor and filmmaker Rohit Shetty attend a special event to listen to the 100th episode of Prime Minister Narendra Modi's radio talk show 'Mann Ki Baat' at Raj Bhavan in Mumbai on Sunday. The cast talked about the impact the show is having on the country and shared their happiness at being invited for the episode.
The Prime Minister said –
The radio show 'Mann Ki Baat' first aired on 3 October 2014 and will complete 10 years next year. The Prime Minister said, 'Mann Ki Baat' is a reflection of the 'Mann Ki Baat' of crores of Indians, it is an expression of their feelings." He thanked the people for making the program a success.
Shahid Kapoor said-
Speaking at the event, Shahid Kapoor told agency ANI, "Modi ji wants to be connected with the people, it is a sign of a great leader. Prime Minister Narendra Modi has always been the most popular leader, he has always been connected with the people." I think it is a simple thing, but the connection is very deep. It is very difficult to say your mind and what people have to say, but Modi ji still understands people's mind. This is a Great show. I loved listening to it. I am very lucky to have been invited here. This show has been around for ten years. It is a privilege to be here."
Madhuri Dixit said-
Madhuri said, "He is such a great leader, he takes out time for people. He tries to understand their problems which is amazing. He is reaching out to different types of people in small towns and villages. He is so nice." Working, highlighting talent from small towns." Which a lot of people don't really know about."
Rohit Shetty said-
Rohit Shetty shared that "Prime Minister is an inspiration for all the citizens. Citing the example of the 100th episode, the filmmaker said that the show is bringing people together. Shetty said that Mann Ki Baat does not mean that the Prime Minister is only talking about himself, he is also listening to people's heart.
read this also-
Upcoming Twist: In anupamaa and GHKKPM, the makers made fun of the relationship, know the condition of YRKKH
Kangana Ranaut completed 17 years in the industry, wrote an emotional post for this person
Anupamaa: Anuj will express his love for Anupama in front of the Shah family, Maya hatches a new conspiracy
Latest Bollywood News

<