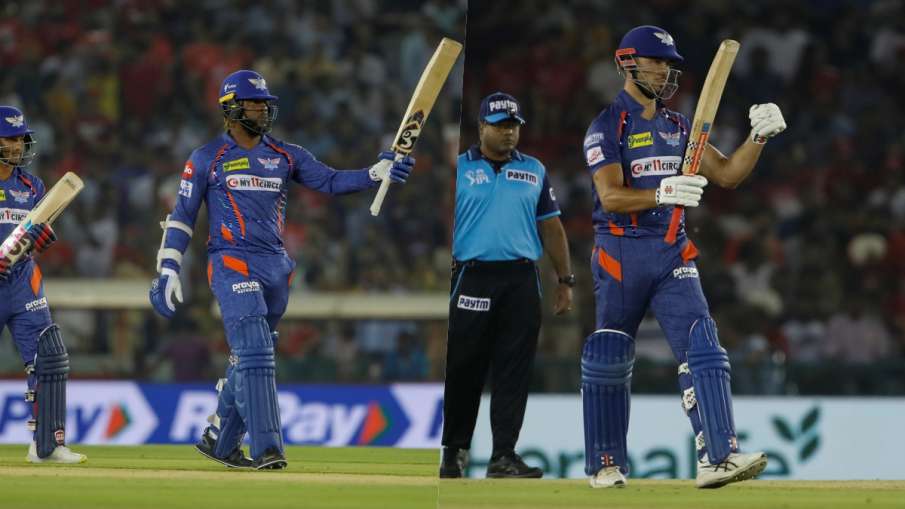 Image Source : PTI LSG did the biggest feat in IPL history
In the 38th match of IPL 2023, Lucknow Super Giants batting dangerously washed the bowlers of Punjab Kings fiercely. Batting first after losing the toss, Kyle Myers started the batting from the very beginning for the Lucknow team. The team's score had crossed 100 in 8 overs. The team scored 257 runs losing 5 wickets in 20 overs. Marcus Stoinis played an inning of 77 runs off 40 balls. Apart from him, Kyle Myers also hit 54 runs off 24 balls. Apart from this, Ayush Badoni scored 43 off 24 balls and Nicholas Pooran scored 45 off 19 balls. The 250 mark was crossed for the second time in IPL history and this happened after a wait of 10 years.
RCB holds the record for the highest score in an innings in IPL history, which it made against Pune Warriors in 2013. Earlier, the second highest score of the league was 248 in the name of RCB which was made in 2016. It has now been broken by Lucknow Super Giants after seven years. For the second time in the 16-year history of IPL, it has happened that a score of more than 250 has been scored in an innings. With this, Lucknow has made the biggest score this season as well. Earlier in this season, the score of 235 runs was recorded in the name of CSK.
Five highest scores in IPL history (in an innings) RCB – 263/5 (vs Pune Warriors, 2013) Lucknow Super Giants – 257/5 (vs Punjab Kings, 2023) RCB – 248/3 (vs Gujarat Lions, 2016) CSK – 246/5 ​​(vs Rajasthan Royals, 2010) KKR – 245/6 (vs Punjab Kings, 2018)
In this innings for Lucknow Super Giants everyone except KL Rahul batted amazingly. Deepak Hooda also remained unbeaten after scoring 11 runs in 6 balls and Krunal Pandya scored 5 runs in 2 balls. Apart from the biggest score in this match, the record for the most boundaries was also made. Earlier in 2013, RCB had scored 42 boundaries by hitting 21-21 fours and sixes in the highest-scoring innings. In this match, Lucknow hit a total of 41 boundaries including 27 fours and 14 sixes in his innings.
Record for most boundaries in an IPL match 42 (21, 21) – RCB vs Pune Warriors, 2013 41 (27, 14) – Lucknow Super Giants vs Punjab Kings, 2023 39 (24, 15) – KKR vs Punjab Kings, 2018 38 (30, 8) – Mumbai Indians vs Sunrisers Hyderabad, 2021
Read this also:-
Latest Cricket News
Read breaking news, live news updates and special stories from India and abroad on connexionblog Hindi News and keep yourself up-to-date. Click for Cricket News in Hindi sports section


<