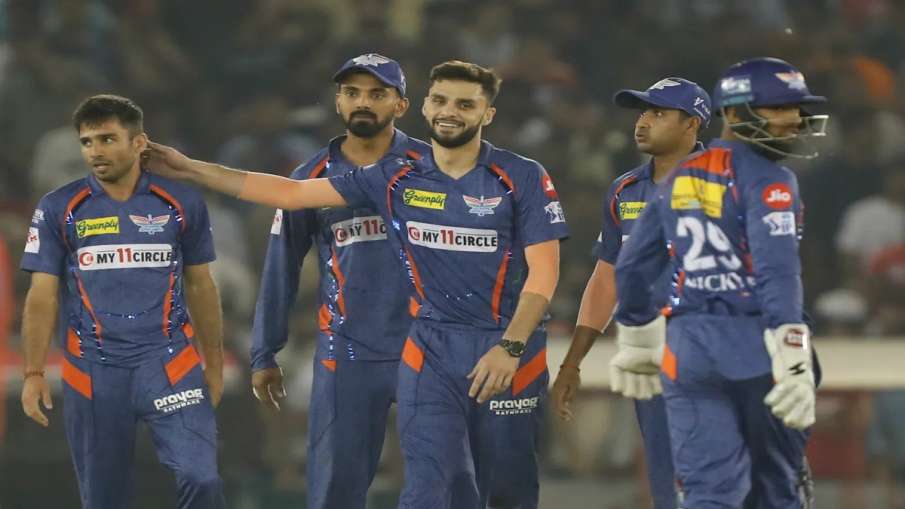 Image Source : IPLT20.COM
LSG
PBKS vs LSG IPL 2023: The 38th match of IPL 2023 was played between Punjab Kings and Lucknow Super Giants. In this match, Punjab Kings captain Shikhar Dhawan won the toss and decided to bowl first, which turned out to be absolutely wrong. Lucknow batsmen showed amazing game in this match. It was because of these batsmen that Lucknow gave Punjab a target of 258 runs, which the Punjab Kings team could not achieve and lost the match by 56 runs. Amazing performance by two star players for Lucknow.
Punjab Kings got defeated
Chasing a mountain-like score, Punjab Kings did not get off to a good start. When the explosive batsman returned to the pavilion after scoring just 1 run. After this, Prabhsimran Singh also could not show a bang and got out after scoring 9 runs. After this, Atharva Tayde played a stormy 66-run innings for Punjab Kings. At the same time, Sikandar Raza contributed 36 runs, but this player could not win the Punjab Kings in the match. Liam Livingstone scored 23 runs, Sam Karan scored 21 runs and Jitesh Sharma scored 24 runs. Yash Thakur got the maximum 4 wickets for the Lucknow team. Naveen-ul-Haq took 3 wickets.
Click here for live score of PBKS vs LSG match.
Lucknow made the second best score in the history of IPL
The batsmen of Lucknow Super Giants showed a bang against Punjab Kings. Lucknow did not start well when KL Rahul was dismissed for 12 runs in just 9 balls. After this, Kyle Meyers and Ayush Badoni batted fast. He hit strokes all over the ground. Meyers scored 54 runs in 24 balls. Badoni scored 43 runs in 24 balls. After this, Marcus Stoinis performed with a bang. He won everyone's heart with his explosive batting. He scored 72 runs in 40 balls. After this Nicholas Pooran scored 45 runs in 19 balls. With the help of these batsmen, the Lucknow team scored 257 runs at the loss of 5 wickets. This is the best score by any team in the history of IPL.
No bowler from Punjab Kings was able to perform amazingly. Arshdeep Singh and Kagiso Rabada looted too many runs. Arshdeep gave 54 runs and Rabada gave 52 runs. Arshdeep, Liam Livingstone, Sam Karan got 1-1 wickets.
Such a performance in IPL 2023
In IPL 2023, the Punjab Kings team has so far won 4 out of 7 matches and has lost 3. At the same time, the team of Lucknow Super Giants has won 7 matches so far in IPL 2023 and has faced defeat in three matches. But the run rate of the Lucknow team is more than that of Punjab. Lucknow's team is at the fourth position in the points table. At the same time, the team of Punjab Kings is at the sixth position.
Both the teams have won one match each
So far 2 matches have been played in IPL between Punjab Kings and Lucknow Super Giants, out of which Punjab Kings have won one match and Lucknow team has won one match.
Latest Cricket News

<