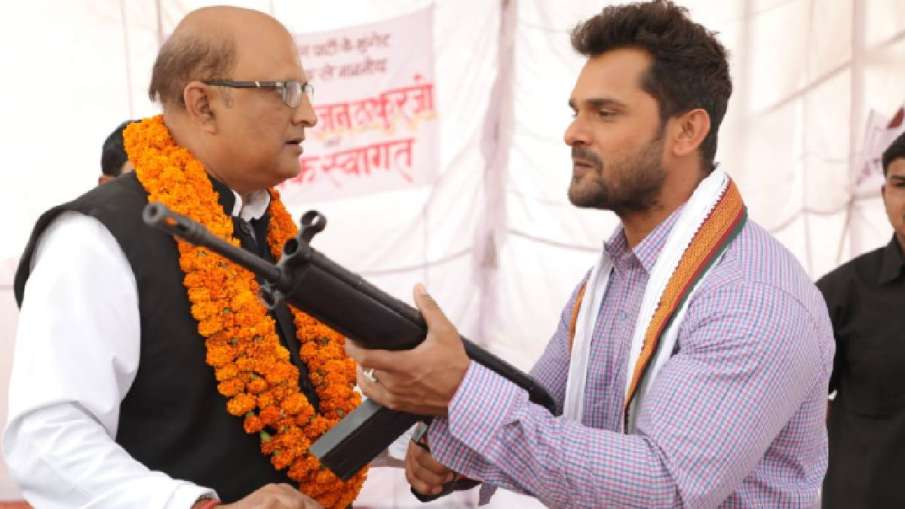 Image Source : INSTAGRAM Khesari Lal Yadav
New Delhi: We all know that the security of the Chief Minister is so strong, it is not easy to break into it. But to stand with a gun in front of a Chief Minister is really surprising. Bhojpuri star Khesari Lal Yadav is seen doing something similar, you are shocked! So let us tell you that these are the pictures of the set of a film which have become popular on social media. Khesari Lal Yadav is seen brandishing a gun in the pictures. This scene has been leaked from the shooting of Khesari Lal Yadav's film 'Illegal', which was shot in Sonbhadra district of UP. Ranjan Sinha is seen in the role of Chief Minister in this film.
looks like a scene
In the pictures which are being seen on the social media, we can see that during the public meeting of the Chief Minister, Khesari Lal Yadav reached the stage with a gun, seeing which the Chief Minister himself was speechless. After that the security personnel present there snatched the gun from the hands of Khesari Lal Yadav. Ranjan Sinha is seen playing the character of Chief Minister Ranjan Thakur in this film, in front of whom Khesari Lal Yadav comes with a gun. This picture of the set of the film has now started going viral on social media as well, in which the image of Chief Minister Ranjan Sinha is being liked by the people.
Sooraj Pancholi broke silence after release, spilled pain of 10 long painful years
Let us tell you that the Bhojpuri film 'Illegal' is being produced by Rajgharana Films Private Limited. Khesari Lal Yadav, Yamini Singh, Aparna Malik along with Samarth Chaturvedi, K. Of. Goswami, Dev Singh, Subodh Seth, Mahesh Raja, Prem Dubey, Manish Anand, Saikat Chatterjee, OP Kashyap, Sonu Pandey, Ashtabhuj Mishra and others will also be seen in pivotal roles. Its director is Neeraj-Randhir and producer is Aditya Kumar Jha. The story, dialogues and screenplay of this film are jointly written by Praveen Chandra and Abhishek Chauhan.
Kangana Ranaut got angry on the word like 'female director', said – Sexuality is only in your bed…

<