ABP C Voter Opinion Poll: Voting for the assembly elections is to be held in Karnataka on May 10. Its results will be declared on 13 May. All political parties are trying their best to bring its results in their favor. Before that the opinion poll of ABP News C-Voter has come out. In this opinion poll, the opinion of the public was sought regarding the functioning of Chief Minister Basavaraj Bommai.
In this opinion poll, people were asked that how is the work of CM Bommai? On this, 25 percent people said that Bommai has done a good job. On the other hand, 24 percent people said that the work is average, but maximum 51 percent people said that Bommai has not done the work right, that is, his work is considered bad.
How is the work of CM Bommai?
good – 25 percent
Average – 24 percent
Bad – 51 percent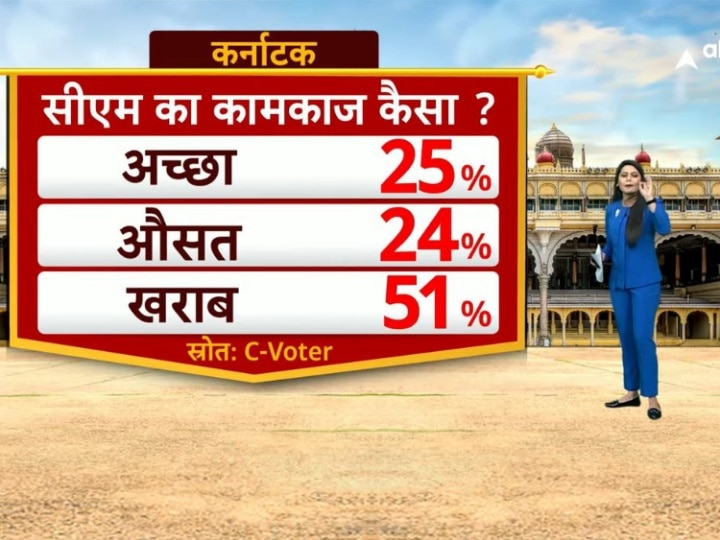 The public is assessing the work of the Karnataka government, Chief Minister Basavaraj Bommai and Prime Minister Narendra Modi. Questions based on similar issues were asked in public. CVoter has done mega opinion poll for ABP News. The opinion of 17,772 people has been taken in this poll. Surprising results have come out in the poll.
Apart from the two major parties, BJP and Congress, many parties have fielded candidates in the assembly elections. A total of 5,102 papers have been filed by 3,632 candidates from all parties. In this, 707 candidates are from BJP, 651 from Congress, while a total of 1,720 independent candidates are in the fray.
read this also: ABP Cvoter Opinion Poll: How happy are the people in Karnataka with the work of the state government, surprising results in the opinion poll

<