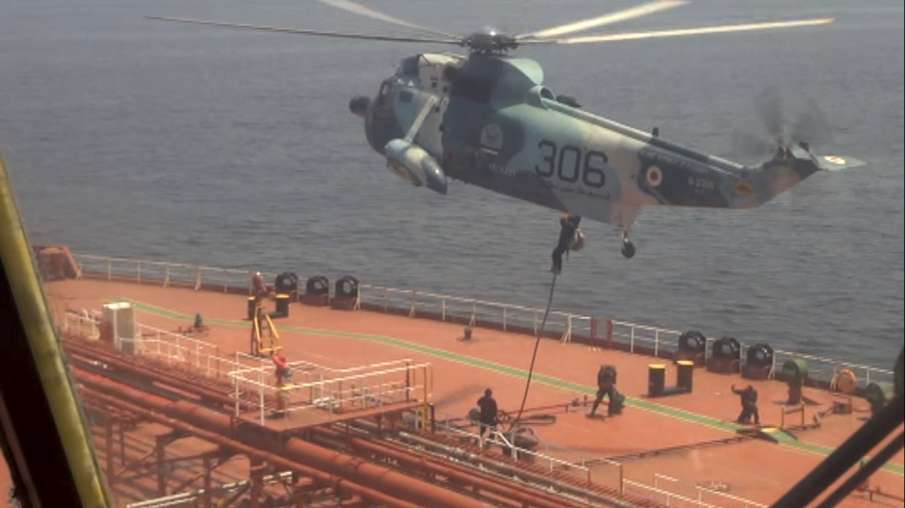 Image Source : AP Representational Photo
All 24 crew of the US-bound oil tanker seized from the Gulf of Oman by Iranian Navy commandos about two days ago have been found to be Indians. Masked Iranian navy commandos raided a helicopter in the Gulf of Oman to seize a US-bound oil tanker, footage of which was broadcast on Iran's state television channel on Friday. All 24 crew members of this vessel are Indians.
Let us tell you that this is the latest incident of seizure of this tanker managed by Turkey and owned by China. The incident comes amid tensions with the United States over its pursuit of the nuclear programme. The tanker's manager issued a statement saying the tanker was being towed to a port by the Iranian Navy on the basis of an international dispute. All 24 crew members of this vessel are Indians. However, there is no response from India on this matter yet.
America opposes Iran's action
The US has protested against the seizure of an oil tanker by the Iranian Navy. The footage shows commandos being lowered from a helicopter onto the deck of an oil tanker named 'Advantage Sweet' by ropes. After this, the commandos have taken the oil tanker towards their area by taking the crew in custody. Meanwhile, the US Navy's Fifth Fleet said the seizure by Iran was at least the fifth commercial vessel seizure by Tehran in the past two years.
Latest World News
Read breaking news, live news updates and special stories from India and abroad on India TV Hindi News and keep yourself up-to-date. Click for Asia News in Hindi Foreign Section


<