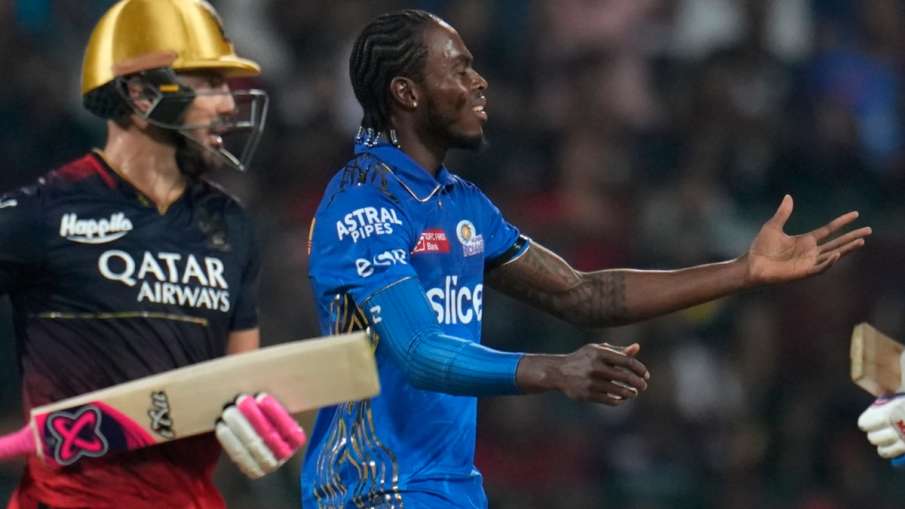 Image Source : AP Jofra Archer
Many claims are being made regarding Jofra Archer's injury during IPL 2023. Jofra Archer joined the squad of five-time champions Mumbai Indians after claiming he was fit for the league, but has played only five of the seven matches he has played for the team. He also had a tweet criticizing the reports of him going to Belgium for surgery in the middle of IPL and this started all the controversy.
Can return in this match
However, Mumbai Indians head coach Mark Boucher has now confirmed that Archer had traveled to Belgium for a minor surgery, but he did not divulge much about it. Furthermore, he also confirmed that the England pacer is available for selection for the match against Rajasthan Royals on Sunday (April 30). Boucher expressed hope that with the arrival of Archer, Mumbai Indians can perform well in the death bowling, where they need to improve massively.
Head coach revealed
Boucher said before the match against Rajasthan Royals that yes, he was in Belgium for surgery. I believe it was a minor surgery. We all know what Jofra can do. He has been a brilliant bowler for many years. So, he is an important link in our bowling unit. Obviously, he can bowl the new ball at some decent pace and he is very good in the death overs as well. It (death overs) is one issue where we have struggled a bit. So, he can solve this issue and fulfill that role.
Mumbai Indians are currently ninth in the points table with just three wins but have an extra game in hand compared to other teams. They need to perform brilliantly in the coming matches to make it to the top four. However, it will not be an easy task against Rajasthan Royals, who have registered five wins from 8 matches. But with the arrival of Archer, Mumbai Indians and captain Rohit Sharma will take the field with a new strategy in the coming matches.
Latest Cricket News

<