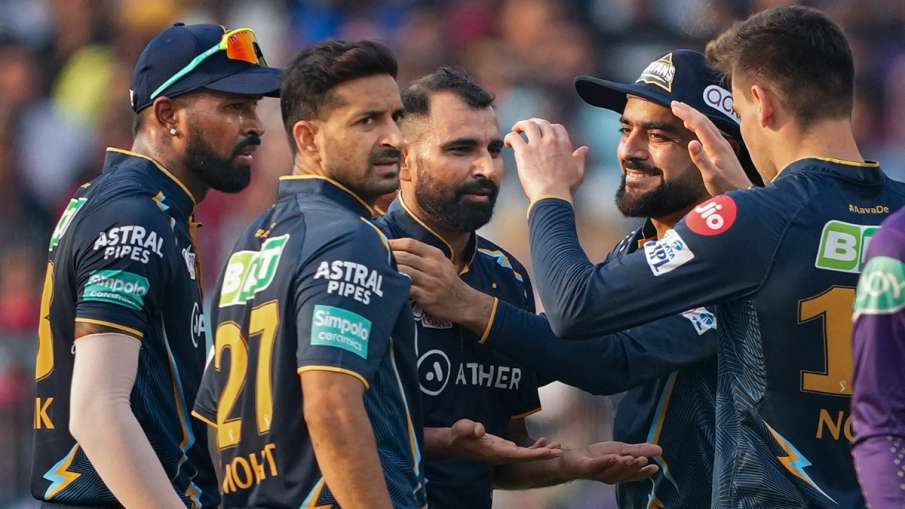 Image Source : PTI Gujarat Titans
In the 40th match of the Indian Premier League (IPL), Sunrisers Hyderabad defeated Delhi Capitals by 9 runs on Saturday. This was his third win of the season and moved him to 8th position in the points table. The Capitals, on the other hand, have lost their sixth game in 8 matches and are at the bottom of the table since the start of IPL 2023. In the afternoon game, defending champions Gujarat Titans secured the top spot on the points table with 12 points after a win against KKR. While KKR suffered their sixth defeat in the season.
Apart from Titans, Rajasthan Royals, Lucknow Supergiants and Chennai Super Kings are currently in the top four in the points table. Royal Challengers Bangalore remain at the fifth position but Punjab Kings have the same number of points. Punjab is going to play a match against CSK today in the afternoon.
Points table after 40 matches
Gujarat Titans – 8 (Match), 6 (W), 0.638 (Net Run Rate) Rajasthan Royals – 8 (Match), 5 (W), 0.939 (Net Run Rate) Lucknow Super Giants – 8 (Match), 5 (W ), 0.841 (Net Run Rate) Chennai Super Kings – 8 (Match), 5 (W), 0.376 (Net Run Rate) Royal Challengers Bangalore – 8 (Match), 4 (W), -0.139 (Net Run Rate) Punjab Kings – 8 (Match), 4 (W), -0.510 (Net Run Rate) Kolkata Knight Riders – 9 (Match), 3 (W), -0.147 (Net Run Rate) Sunrisers Hyderabad – 8 (Match), 3 ( Won), -0.577 (Net Run Rate) Mumbai Indians – 7 (Match), 3 (Won), -0.620 (Net Run Rate) Delhi Capitals – 8 (Match), 2 (W), -0.898 (Net Run Rate)
Who has the Orange Cap?
Faf du Plessis and Virat Kohli are leading the run-scoring charts in IPL 2023. While the RCB skipper scored 422 runs in eight matches, Kohli scored 333 runs at an average of over 47. Shubman Gill has scored runs equal to Kohli by scoring 49 runs against KKR on Saturday. Both the batsmen have now scored 333 runs in 8 matches. CSK openers Devon Conway and Rituraj Gaikwad occupy the fourth and fifth spots respectively.
Who has the Purple Cap?
Mohammed Shami has entered the top five by taking three wickets in the match played against KKR. He is now fifth with 13 wickets in 8 matches, while all the top 4 bowlers – Mohammad Siraj, Rashid Khan, Arshdeep Singh and Tushar Deshpande have 14 wickets each.
List of IPL 2023 Orange Cap (Top run getter):
Faf du Plessis (Royal Challengers Bangalore) – 422 runs (8 matches) Virat Kohli (Royal Challengers Bangalore) – 333 runs (8 matches) Shubman Gill (Gujarat Titans) – 333 runs (8 matches) Devon Conway (Chennai Super Kings) – 322 runs (8 matches) Rituraj Gaikwad (Chennai Super Kings) – 317 (8 matches)
List of IPL 2023 Purple Cap (highest wicket taker):
Mohammed Siraj (Royal Challengers Bangalore) – 14 wickets (8 matches) Rashid Khan (Gujarat Titans) – 14 wickets (8 matches) Arshdeep Singh (Punjab Kings) – 14 wickets (8 matches) Tushar Deshpande (Chennai Super Kings) – 14 wickets (8 matches) Mohammed Shami (Gujarat Titans) – 13 wickets (8 matches)
Latest Cricket News

<