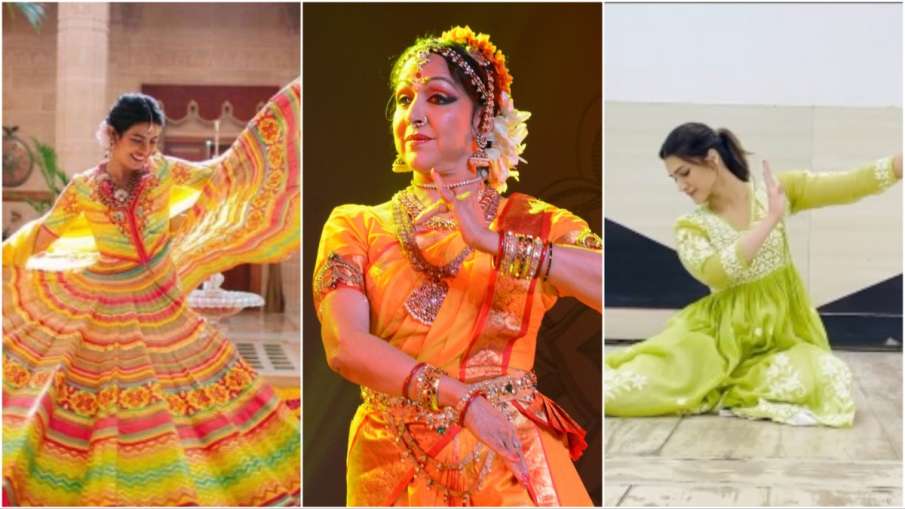 Image Source : INSTAGRAM
International Dance Day
International Dance Day: Dancing is such an art that along with the performer, also takes the spectators to another world. There are many dance forms present all over the world. Out of which it is quite difficult to decide which dance is the best. Because whatever dance you see, its qualities mesmerize you. But the matter of Indian classical dance is something else, because the fragrance of Indian society is seen in every classical dance. Bollywood is also no exception to Indian classical dance, in every other film we see actresses performing classical dance. Today, on 29th April, we are going to tell you about one such Bollywood actress who is an actress as well as a classical dancer.
Hema Malini – Kathak:
Who is not familiar with Hema Malini's Kathak. She stuns people by giving live performance even at the age of 74. Even today the Khajuraho festival starts with his dance. In many films too, he has made a mark with his dance.
Janhvi Kapoor- Kathak:
Jhanvi Kapoor is also an excellent Kathak dancer like her mother Sridevi. For this, he has taken classes for years. Even today, Janhvi practices dance whenever she gets a chance. We have seen many dance videos on his Instagram page.
Kriti Sanon – Kathak:
Kriti is an official trained Kathak dancer and has been learning classical dance since the age of eight. We all saw the fusion of Kathak with Lavani dance in the song 'Mard Maratha' from the film 'Panipat'. She shares practice videos on social media every day.
Richa Chadha – Kathak:
Always a sincere fan of any form of art, Richa Chadha is quite proficient in Kathak. Richa was formally trained in the classical dance form of Kathak since childhood, but had to discontinue it due to her board exams. However, she resumed her practice for Sanjay Leela Bhansali's 'Hiramandi', which demanded her to excel in Kathak.
Taapsee Pannu – Bharatanatyam:
We haven't seen much of his dancing on the big screen. Taapsee Pannu is a trained Bharatanatyam dancer. She was introduced to this dance form when she was in the fourth standard. He also took it seriously and won many prizes at the college and university level.
Rani Mukherjee – Odyssey:
If you have seen Rani Mukherjee perform live on stage then it will be an amazing experience. The actress took it seriously when she was in 10th standard. Rani has performed during various live shows and award ceremonies. She has also expressed her desire to make a film that highlights her Odissi dancing skills.
Adipurush: Kriti Sanon's motion poster surfaced on Maa Sita Navami, along with a surprise for Ram devotees
Priyanka Chopra Jonas – Kathak:
Who knew that Priyanka Chopra Jonas, now a global icon, could have the hidden talent of knowing Indian classical dance. Now we know where her exotic dance moves come from. It is also learned that Priyanka's guruji used to praise her when she used to dance.
Janhvi Kapoor was dancing when a person did such an act, the actress gave a strange reaction
Latest Bollywood News

<