Intermittent heavy rains in Madhya Pradesh, monsoon-like showers in Bhopal and Indore, hailstorm in Raisen, Sehore and Shajapur
The Fact India: It has been raining intermittently since morning in Bhopal and Indore, the capital of Madhya Pradesh. Hail has also fallen in many areas here. Due to hailstorm in Sehore, Raisen and Shajapur districts of the state, the view has become like Kashmir. A sheet of hail was spread on the roofs of the fields, roads, streets and houses. Many districts including Narmadapuram and Dhar also received hailstorm accompanied by heavy rain.
There has been so much rain in Bhopal that the record of the last 10 years has been broken. About 1.25 inches of rain has fallen in the last 24 hours. On April 20, 2013, Bhopal recorded the highest rainfall of 30.8 mm in 24 hours, but on Sunday it recorded more than 35.1 mm of rain. In Khajuraho, it rained about two inches i.e. 44 mm of water. The Meteorological Department says that due to the Western Disturbance being active, there is hail and rain in the entire state. The weather has been predicted to remain like this till May 4.
There was heavy hailstorm in Sehore district. Hailstorm accompanied by heavy rains lashed Dhabla, Panch and Piplia villages of the district. During this, the fields started appearing white due to hailstorm. Hail was also spread on the roads. Due to which a view like Kashmir was seen here. There was hailstorm in Polaikalan, Shujalpur, Kalapipal in Shajapur district.
Dense dark clouds surrounded the capital Bhopal at around 11.30 am on Sunday. Then it started raining heavily with thunder and lightning. This round continued till evening. In Indore too, it rained with thunder and lightning from seven in the morning, which continues intermittently. A tree fell on a car near Shahpura Lake due to strong wind and rain in Bhopal. Four people were present in the car. The good thing is that all four people are safe. After the accident, the team of Electricity Department and Municipal Corporation reached the spot.
Along with the rain, a drop in the day temperature has also been recorded in the state. In Seoni, the maximum temperature dropped up to 9.2 degrees. The day temperature was recorded here at 21.8 degree Celsius. The temperature in Bhopal reached 26.3 degrees. Here the temperature rolled 2.4 degrees. In Indore, the temperature was 27.4 degrees with a drop of 4 degrees. The temperature was recorded 29 in Gwalior and 26.8 degrees in Jabalpur. The mercury remained below 30 degrees in 17 cities of the state.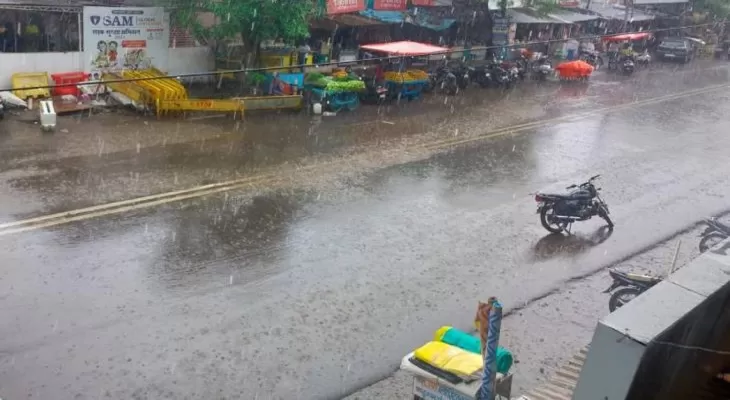 <