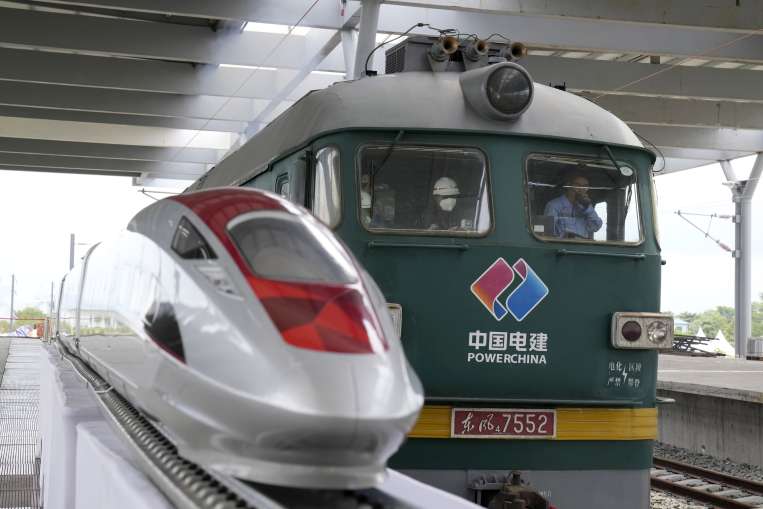 Image Source : AP Representational Photo
Trickster China may show itself as a sympathizer of countries like Pakistan, but its intention is to establish its influence and dominance over other countries including Pakistan and make them its slaves. In this episode, China enslaved all countries like Pakistan, Nepal, Sri Lanka, Burma, Bhutan by giving loans. Then through the Belt and Road Initiative project (BRI), infiltrating other countries, they started setting up their own system. Now, development in countries like Pakistan and Nepal has started playing games with the sovereignty of such countries by talking about providing rail network in the name. So that all these countries can be made their hangers-on. Now China has approved $57.7 billion rail network project till Pakistan.
According to the information, this new proposed railway project connecting Pakistan and China is being considered as the costliest project. The proposed railway connecting Gwadar Post to Kashgar in Xinjiang is of strategic importance, and has the potential to 'reshape trade and geopolitics'. Scientists from the China Railway First Survey and Design Institute Group, who assessed the railway, urged that the new project should be supported. It was led by Zhang Ling, deputy director of capital operations.
China seeks support for Pakistan rail project
China has sent a message through its team that the government and financial institutions (in China) should provide strong support. Coordination and cooperation between the relevant domestic departments should be increased. Efforts should be made to inject support funds and provide strong policy support and guarantees for the construction of this project. According to Geo News, Pakistan is expected to get the needed boost from infrastructure and will easily do business with China. The railway project will also improve connectivity between countries along the ancient Silk Road trade routes. The study further revealed that the project is part of a plan to reduce dependence on western dominated routes.
China has given the lure of increasing employment and trade
China has started giving many kinds of greed to Pakistan regarding the project. It has been said through the researchers that, "This project will generate more jobs, boost investment in infrastructure and increase in trade is also expected." The study also said that the estimated GDP of Pakistan last year was only 6 times the cost and hence, he was unable to get adequate financing. The team said, "Pakistan's economic growth rate has come under pressure due to energy shortage, poor investment climate and fiscal deficit.
Pakistan is unable to provide adequate financial and material support in terms of railway investment and construction. Pakistan is mainly dependent on Chinese enterprises for investment and construction. Security issues in Pakistan may also hinder the railway project and Chinese Can pose a risk to workers and investments.
Latest World News

<