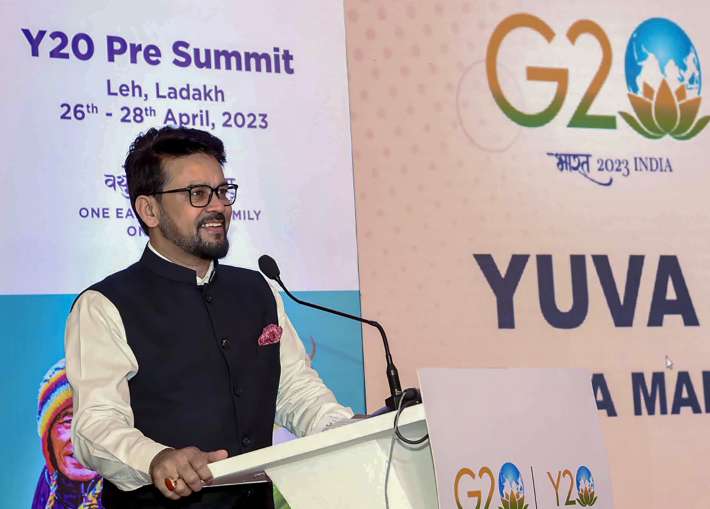 Image Source : PTI Union Minister Anurag Thakur speaking at Y-20 organized in Leh-Ladakh
The whole world is seeing India's strength in G-20. The presidency of G-20 will remain with India for one year. During this, India has slapped China by successfully organizing Y-20 in the Leh-Ladakh region adjacent to the Line of Actual Control. India successfully organized the Y-20 summit with representatives from 30 countries. Due to this, the stomach of neighboring China has started hurting. Union minister Anurag Thakur on Friday said the successful hosting of the Y20 (Youth 20) pre-summit meeting here was a befitting reply to those who "tried to spread fear and confusion" ahead of the event.
By the way, the reference of Union Youth Affairs and Sports Minister Anurag Thakur was directly towards China. But he said without naming any country that those who tried to "spread fear and confusion" would now be feeling "pain" because of the "huge success" of the three-day event. Let us tell you that China did not participate in the Y20 event organized here and it did not even make any public statement against this event, but its close ally Pakistan objected to the organization of G20 related events in Jammu and Kashmir and Ladakh. Was.
Pakistan is also feeling pain over the proposed G-20 meetings in Srinagar and Leh
Earlier this month, Pakistan's foreign ministry issued a statement raising "strong objections" to India's plan to hold G20 meetings in Srinagar and Leh. In the year 2020, after the skirmish in the Galvan Valley, there was tension in the relations between India and China. "The (Y20) discussions on the (listed) topics were very successful," Thakur told a press conference here on the concluding day of the event. When I say that the Y20 pre-conference was a great success, surely some people must have felt pain. Those who tried to spread fear and confusion before Y20. Even said that this event should not be held in Leh. (But) it happened in Leh and was quite successful. I say this openly (on record)." The event was attended by 103 delegates from 30 countries and discussed various global issues.
India is making a record under the chairmanship of G-20
Thakur also said that India is setting new benchmarks in hosting the G20. He said, "It is a matter of pride for India that we are celebrating the 75th year of the country's independence and also presiding over the G20. Before India many countries presided over the G20 and made a lot of efforts for its success. But hosting the G20 in India is setting new records." He said that the culture and heritage of India has enthralled the foreign delegates. Thakur said India's rich art and cultural heritage has enthralled nearly 12,000 people who have visited the country so far in connection with the G20 meetings.
Latest World News

<