Kangana Ranaut: Kangana Ranaut has completed 17 years in the film industry. Bollywood Queen has shared her old memories with director Anurag Basu on this special occasion. Sharing a picture with Anurag Basu, Kangana told how Anurag used to give her instructions during the shooting of Life in Metro.
Kangana shared a picture with Anurag Basu
Kangana Ranaut remains very active on Instagram. Now on Saturday night, Kangana has shared an Instagram story on the completion of 17 years of her film Metro Life. Kangana also shared a picture with this story. In which she is seen sitting on the sofa with Anurag Basu. In this picture, Kangana is seen sitting on a sofa tied in a ponytail in a black dress and Anurag Basu, sitting in front of her, is seen explaining something to her.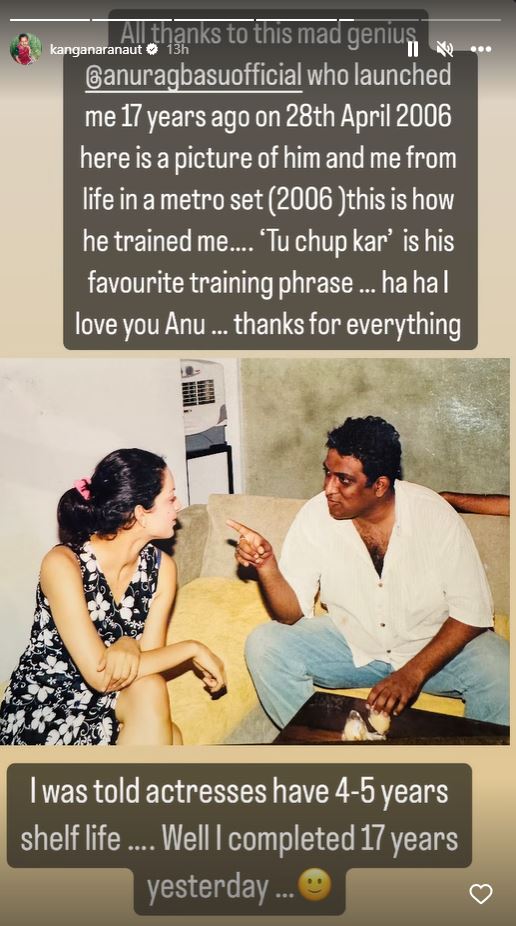 Why did Anurag silence Kangana
In this Insta story, Kangana tagged Anurag Vasu and wrote, 'Thank you to this mad genius Anurag Vasu who launched me 17 years ago on 28 April 2006, this is a picture of him and me in Metro set (2006), like this He trained me…. 'Tu Chup Kar' is his favorite dialogue during training… Ha ha I love you Anu… Thank you for everything. She also added, "I was told that actresses have a shelf life of 4-5 years… Well, I completed 17 years of the film yesterday…"
Big star cast was seen in Life in Metro
Life in a Metro (2007) is a drama film directed by Anurag Basu. Apart from Kangana, Dharmendra, Nafisa Ali, Shilpa Shetty, KK Menon, Shiney Ahuja, Irrfan Khan, Konkona Sen Sharma and Sharman Joshi were also seen playing lead roles in this film. Let us tell you that Kangana made her Bollywood debut in 2006 with the thriller Gangster.
Also read: Ranbir Kapoor Skin Care: What does Ranbir Kapoor do to avoid tanning? This thing of Alia Bhatt is not included in the routine

<