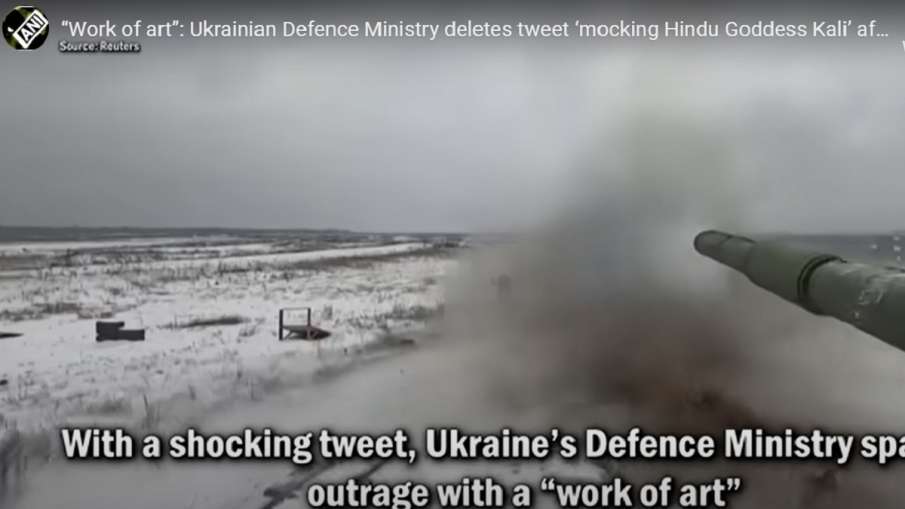 Image Source : TWITTER In the midst of the war, Ukraine did a mean act with India, insulted Maa Kali in the tweet, then removed the tweet
Ukraine on Maa Kali: In the midst of the ongoing war between Russia and Ukraine, Ukraine has done such a dastardly act, which has angered Indians. The Defense Ministry of Ukraine has shared a photo, after seeing which the Hindu community is angry. Ukraine has shared such a photo of Maa Kali, revered among Hindus, about which there is an objection. The people of the Hindu community are reacting strongly to this act of the Ministry of Defense of Ukraine. However, later, seeing the growing controversy, the Ministry of Defense of Ukraine deleted the shared tweet related to Maa Kali. In fact, the Ukrainian Defense Ministry shared a photo of Maa Kali with its official Twitter handle, which is extremely derogatory. Expressing displeasure over this photo, Indian users have demanded action from External Affairs Minister S Jaishankar. Users are calling it the poor mentality of Ukraine.
Tweeted the photo of Maa Kali
The photo of Maa Kali was shared on April 30 by @DefenceU, the official Twitter handle of the Defense Ministry of Ukraine. It can be seen that Maa Kali has been shown like Hollywood actress Marilyn Monroe. The smoke from the blast is visible on the face of Kali Mata in the picture. The tongue is visible in the picture. Along with this, there is a garland of skulls around the neck of Mata Kali.
people got angry after seeing the photo
After seeing this photo, Indian Hindus are saying that Ukraine is targeting Indians because they have not received help from India in the war. Ukraine has written 'Work of Art' in the photo caption. After this action of Ukraine, Indian users are demanding action from Elon Musk and India's Foreign Minister S Jaishankar. Let us inform that the war between Ukraine and Russia is going on since 24 February 2022. Ukraine has been badly defeated in this war. India has also appealed to Russia to stop the war. But despite this, Ukraine is doing such activities. In such a situation, this action with India may prove costly for Ukraine.
Swami Chakrapani expressed displeasure with UN
Swami Chakrapani, President of Sanatan Mahasabha, has given a sharp reaction to the insult of Maa Kali by Ukraine. He said that the way Maa Kali has been insulted in the official Twitter of Ukraine is unfortunate. That's why we have tweeted to India's PMO and UN that action should be taken against Ukraine.
Latest World News
Read breaking news, live news updates and special stories from India and abroad on India TV Hindi News and keep yourself up-to-date. Click for Europe News in Hindi Foreign Section


<