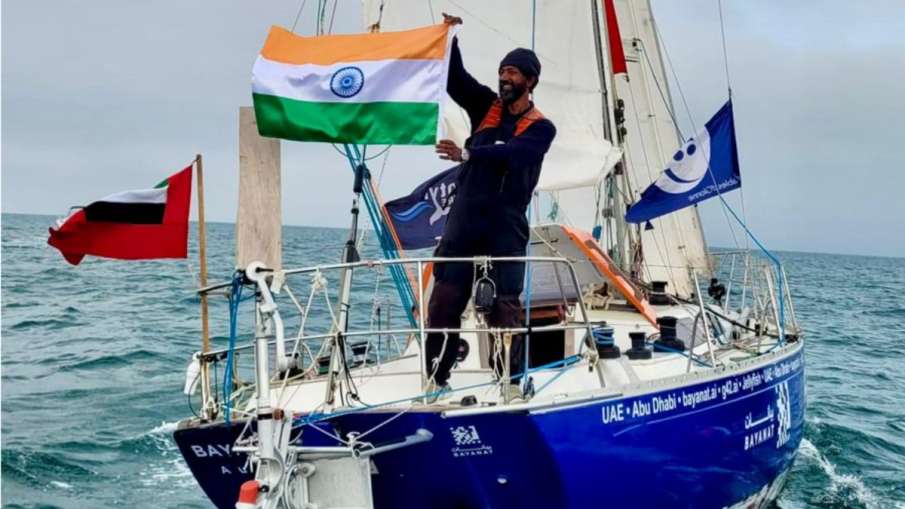 Image Source : TWITTER (@INDIANNAVY) Abhilash Tommy
Indian sailor Cdr Abhilash Tomy (Retd) will finally set foot on land after sailing for 236 days in the Golden Globe Race (GGR), the only non-stop boat race around the world. Commander Tommy is all set to finish second on Saturday at 1:30 p.m. in Les Sables d'Olonne, France, after South African sailor Kirsten Neuschäfer, who suffered a serious back injury at the same event five years ago. But he did not give up and made a great comeback.
Admiral R Hari Kumar, Chief of the Naval Staff and all personnel of the Indian Navy appreciated Commander Tommy's achievement and congratulated him for finishing second in the race. The Navy gave the caption while sharing his pictures on his social media.
The decision was taken after the injury
Retired Naval Commander and also a winner of Tenzing Norgay National Adventure Award, Abhilash Tomy had on March 22, 2022 announced his participation in Golden Globe Race 2022, which is one of the most dangerous endeavours. He said at that time that "I will participate in the Golden Globe Race 2022 on Bayanat. This is a big thing for me." On 18 September 2018, he was racing in the South Indian Ocean when he was caught in a storm. Out of three boats, two boats could not face that storm and one boat was saved. In which Abhilash Tommy was aboard. But during that time he had suffered many serious injuries.
shocking story
On September 18, 2018, Commander Tommy's boat had an accident in a storm. Because of which he had suffered a back injury in the sea. He was stranded in the South Indian Ocean during GGR 2018, a non-stop, around-the-world yacht race. He was caught in a storm that wrecked his boat and got stranded halfway between Australia and South Africa. He was rescued after being at sea for 83 days following a complex international effort. He was transferred to an Indian Navy ship and two days after his arrival in India, titanium rods were inserted in his spine.

<