Publish Date: | Wed, 04 May 2022 01:42 PM (IST)
Bharti Singh And Harsh Limbachiya: Comedian Bharti Singh gave birth to a son on 3 April. But till now he has not shared any picture of his son on social media. The fans of Bharti and Harsh were very eager to see their son. Bharti definitely shares some of her pictures with her son on social media, but she does not show her son's face in them. Now Bharti and Harsh's son has turned one month old, about which they have shared some stories on their Instagram account, in which Harsh is seen showering love on his child. Both are looking very cute.
Bharti shares stories
Bharti has shared some stories on Instagram after her son turns a month old, in which Harsh is seen loving his son in his arms. In these stories too, Bharti has hidden her son's face with an emoji.
At the same time, he has written that 'Happy one month gole'. Bharti had shared some cute photos on social media some time back, in which she was holding her son with both hands. In these pictures, Bharti had closed her eyes and she was seen caressing her child. Fans are very fond of these photos of Bharti.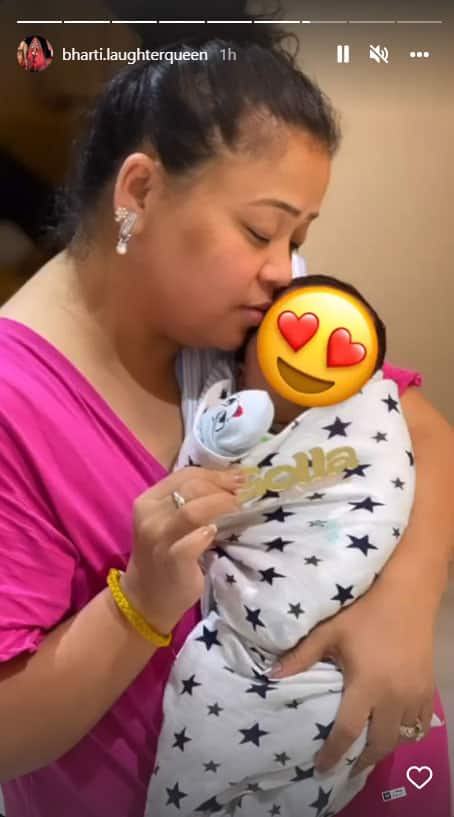 Bharti returned to work within a few days
Shortly after giving birth to her child, Bharti returned to her work. She is very serious about her work. Bharti was seen on the sets of Hunarbaaz within 12 days of delivery. While talking to the paparazzi, she also said that 'she has cried a lot, the baby is 12 days old but she had to return to the set because work-work happens'. Along with this, Bharti also worked during the entire time of her pregnancy. At the same time, Bharti and Harsh were shooting for Hunarbaaz and also shooting for their show 'Khatra Khatra Khatra'.
View this post on Instagram
Posted By: Sandeep Chourey