Publish Date: | Wed, 27 Apr 2022 12:09 PM (IST)
Deepika Padukone Cannes 2022: Deepika Padukone will be a part of the jury of the Cannes Film Festival. On the other hand, veteran French actor Vincent Lindon has been made the chairman of the jury and Deepika has been made a member of the panel. The actress herself gave this information through her social media handle. Let us tell you that before Vincent Lyndon, Isabel Huppert was the jury president in 2009. Even before this, many French stars have been the president of the jury. The Cannes Film Festival is going to be held from May 17 to May 28 this year. Celebs from all over the world attend the Cannes Film Festival and fans are waiting for their red carpet looks.
Deepika shared the news on social media
Deepika herself gave information about joining the Cannes Film Festival as a jury member by sharing a photo on her Instagram story, in which other jury members are seen joining her. Along with this, he has also shared an official statement from the Cannes Film Festival on Instagram Story.
These things are written in the share story
In the story that Deepika shared on her Instagram, it is written that India's biggest star producer, social worker and actress Deepika Padukone who has worked in more than 30 films. She has also appeared in Hollywood with Vin Diesel in the film xxx: Return of Xander Cage. Deepika Padukone has already been a part of the Cannes Film Festival every year. She started her career with Kannada film 'Aishwarya'. She made her Bollywood debut with Om Shanti Om.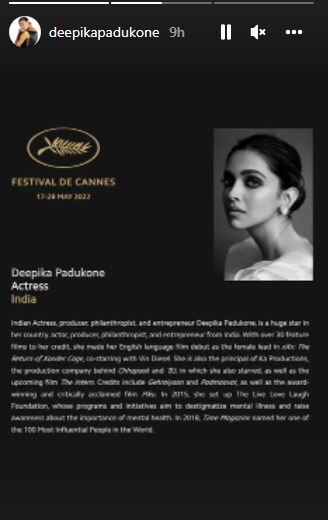 Fans waiting for Cannes look
From Aishwarya Rai to Deepika Padukone and Sonam Kapoor, there are some such stars who have been seen on the red carpet of Cannes Film Festival every year. Fans are waiting for his look. At the same time, there is a doubt whether Sonam Kapoor will be a part of the red carpet due to pregnancy this year, but the fans will definitely wait for the first look of the rest of the stars.
Posted By: Arvind Dubey