Mumbai: Bollywood actress Kangana Ranaut's latest film 'Thalaivi' has been in the news since its release. The film is based on the life of late Tamil Nadu Chief Minister J Jayalalithaa. The film has performed better in parts of South India as compared to the Hindi region. Recently, Kangana Ranaut has shared an appreciation letter on social media by Shanta Kumar, the former Chief Minister of Himachal Pradesh.
Kangana Ranaut has shared the letter of the former Chief Minister on her Instagram. Expressing gratitude to Mr. Shanta Kumar, he wrote, "Special letter from former Chief Minister of Himachal Pradesh…Shri Shanta Kumar ji.. Such a look from one of the greatest politicians of all time on a film based on the life of a politician. Love and appreciation are my greatest rewards. Thank you sir." View post here.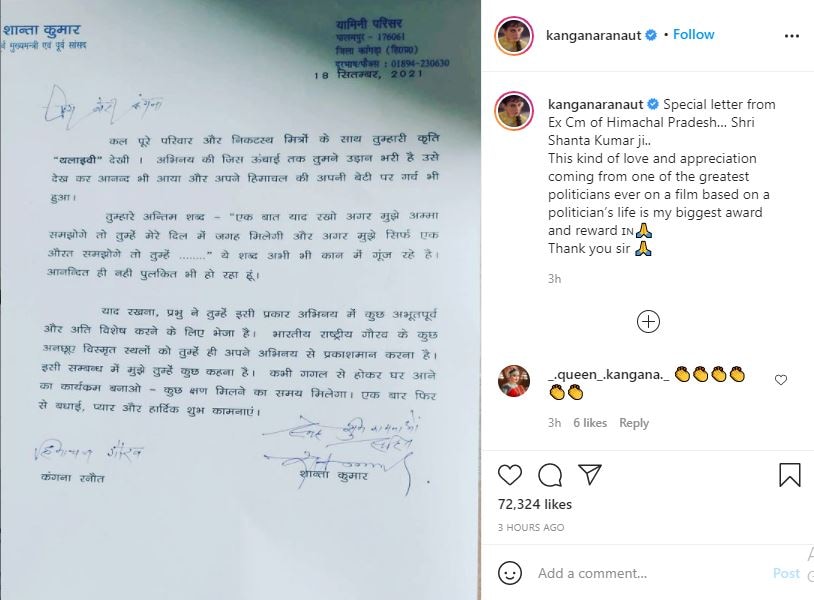 साभार: @kanganaRanaut instagram
Kangana Ranaut has also shared a copy of the former Chief Minister's letter on Instagram. The letter reads, 'Yesterday saw your work Thalaivi with entire family and friends. It was also a pleasure to see the height of acting to which you have flown and also proud of your own daughter from Himachal. Your last words – 'Remember one thing, if you consider me Amma, you will get a place in my heart and if you consider me only a woman, then you will…' These words are still echoing in my ear. I am not only happy but also feeling happy. Apart from this, former Chief Minister Shri Shanta Kumar also wished Kangana good luck for her future life.
Kangana told through a social media post a few days ago that she has signed a new film. The name of this film is 'Sita- The Incarnation'. This is an epic drama. In the film, Kangana will play the title role i.e. Sita. Sharing the poster of the film 'Sita – The Incarnation', Kangana Ranaut wrote, "Happy to be getting the title role with a great cast team. With the blessings of Sitaram. Hail Siya Ram." 'Sita' will be another Pan India film of Kangana which will be released in 5 languages. Aaluk Desai is going to direct 'Sita'.
Read Hindi News online and watch Connexionblog on Hindi website. Know news related to country and abroad and your state, Bollywood, sports world, business.
.